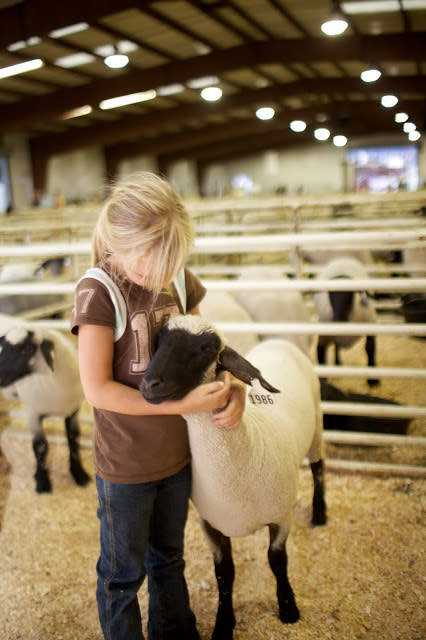 This Weekend Round up is all about one of my favorite things..The Utah County Fair! That's right boys and girls its time to get out those cowboy boots and head down to Spanish Fork for a little "Fun Elevated".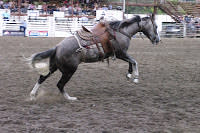 Tonight you can enjoy the Ranch Rodeo at 7:00 pm in the Grand Arena, lets just talk a minute to talk about how nice the new arena is at the fair grounds, and Hypno Hick at both 8:00 pm and 9:00 pm. Tomorrow (Saturday) you can enjoy the festivities from 8:00 am until late. The main attraction tomorrow night is the Demolition Derby at the Grand Arena. My favorite part of the fair are the exhibits, and this year there are some great ones. They have open class exhibits, taxidermy exhibits, 4-H talent show, Boy Scout Expo and a large reptile show.
Some tips to enjoying the fair
1. Come early for the event to find parking. All the parking is free as is the admission to the fair.
2. Come hungry and ready to eat some great fair food. Nothing says summer like deep-fried
3. Wear good shoes, the animals are about.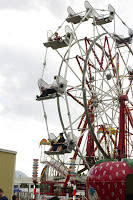 4. Buy ride tickets in bulk, you can get 40 for $18 (45 cents per ticket), that's a much better deal then $1 a ticket!
5. Bring cash
6. Remember it's starting to get cooler at nights, so dress right.
See below for a full schedule of events:
Friday Schedule
(August 16, Fair Hours 8:00 a.m.-10:00 p.m.)
8:00 a.m., Open Youth Horse Show (Willie Nelson Arena)
8:00 a.m. – 10:00 p.m., Jr. Livestock Show (Jr. Livestock Arena –Behind High
Chaparral)
10:00 a.m. 10:00 p.m., Food & Commercial Booths open
10:00 a.m. 10:00 p.m., OpenClass Exhibits (Indoor Tennis Courts)
10:00 a.m. 10:00 p.m., Taxidermy Exhibits (High Chaparral Building)
11:00 a.m. Large Reptile Show (Ponderosa Stage)
1:30 p.m. Large Reptile/Birds of the World (Main Stage)
3:00 p.m. Queenadilla (Main Stage)
3:00 p.m. 9:00 p.m., Classic Car Show (west of Grand Arena)
4:00 p.m. Wasatch (Main Stage)
4:00 p.m. Large Reptile Show (Ponderosa Stage)
4:30 p.m., Oak Hills Vaulters (Grand Arena)
6:30 p.m. –Route 89
7:00 p.m.,Ranch Rodeo (Grand Arena)8:00 p.m. Hypno Hick
9:00 p.m Hypno Hick
Saturday Schedule
(August 17, Fair Hours 8:00 a.m.-10:00 p.m.)
8:00 a.m. – 10:00 p.m., Jr. Livestock Show (Jr. Livestock Arena –Behind High
Chaparral)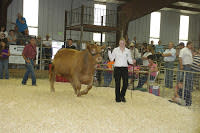 9:00 a.m. -6:00 p.m., Horse Show (Willie Nelson Arena)
10:00 a.m. – 1:00 p.m., 4-H Talent Show (Main Stage)
10:00 a.m. – 10:00 p.m., Food & Commercial Booths open
10:00 a.m. – 10:00 p.m., OpenClass Exhibits (Indoor Tennis Courts)
10:00 a.m. - 10:00 p.m., Taxidermy Exhibits (High Chaparral Building)
10:00 a.m. – 3:00 p.m.,Boy Scout Expo (park northeast of Fairgrounds)
10:00 a.m. Large Reptile Show (Ponderosa Stage)
1:00 p.m. 4:00 p.m., Antique Tractor Pull & Powder Puff Pull (Grand Arena)
1:30 p.m. Large Reptile/Birds of the World Show (Main Stage)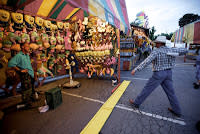 3:00 p.m. Synergy (Main Stage)
4:00 p.m. Large Reptile Show (Ponderosa Stage)
4:00 p.m. Hypno Hick (Main Stage)
5:00 p.m. Hypno Hick (Main Stage)
6:00 p.m. Flash Back (Main Stage)
7:00 p.m., Demolition Derby (Grand Arena) ticketed event