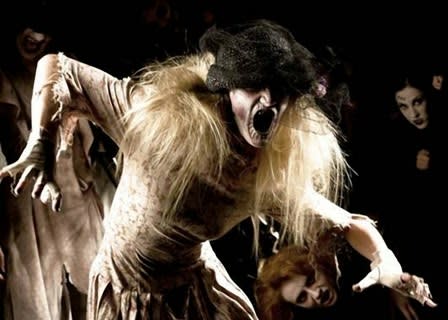 For the weekend roundup today we will be taking a look at the scary side of the performing arts. Plays and performances that will make you look jump, scream, laugh and haunt your nightmares. So here are my must sees for this years Halloween performances!
The Unexpected Guest
at The Covey Center for the Arts: Set in a foggy estate in wales, this mystery opens as a Michael Starkwedder walks into a house to find a man murdered and his wife standing over him with a gun. The women is dazed and her confession unconvincing. So the unexpected guest decides to help her and blame the murder on an intruder. Later, the police discover clues that point to a man who died two years previously.  Suspicions and intrigues is open to the night air!
October 12, 17-19, 24-26
7:30 p.m.; $12-$14
To purchase tickets
Click Here
The Woman in Black
at the Echo Theatre: This Halloween tradition is back! Set in the windswept reaches of the salt marshes beyond Nine Lives Causeway, in the proud and solitary Eel Marsh House. Junior solicitor, Arthur Kipps, is summoned to attend the funeral of Mrs Alice Drablow, the house's sole inhabitant, unaware of the tragic secrets which lie hidden behind the shuttered windows. It is not until he glimpses a wasted young women dressed all in black at the funeral, that a creeping sense of unease begins to take hold. This feeling is deepened by the reluctance of the locals to talk of the woman in black and her terrible purpose.
October -November 2 (excluding Sundays)
7:30 p.m.; $12 at door
Odyssey Dance Theatre: Thriller
at The Covey Center for the Arts: This year's show will have all of the favorite pieces from the past-Thriller, The Curse of the Mummy, Dem Bones, Frankenstein, Jason Jam, Salem's Mass, The Lost Boys, and The River of Blood Dance-plus a few new surprises. Get your tickets early, because most of the performances sold out last year! This show has it all-frights, amazement, scares and lots of laughs.
The show ends this weekend, October 12.
7:30 p.m.; $20-$25