It's a great weekend for the outdoor performing arts. The Scarlet Pimpernel is showing at the SCERA Shell. This is a story of mysterious lovers and saving souls from the guillotine. The Scarlet Pimpernel combines historical fact with

dramatic adventure to create an unforgettable story rich with a powerful musical score and a plot filled with romance, mystery and deception. The SCERA Shell is such a fun place to watch anything. Bring a blanket, it gets chilly when the sun goes down. The American Fork Amphitheater is doing "Aida" by Elton John and Tim Rice. The story of a Nubian princess and an Egyptian soldier. Will their forbidden love win out under the threat of death? Come enjoy this contemporary musical for only $10 per adults and $8 for senior and children under 12.
Alpine City Days and Lindon City Days are finishing up this weekend. Come enjoy the little buckaroo rodeo, dance, firefighter breakfast and much more.
Alpine City Days detailed list of events:
Friday 9th
 Hike to Lake Hardy w/ the Mayor-5:30 am @ Alpine Cove Dr. 
 Water Games-12-2pm @ Alpine Stake Center. $1/child
 Rodeo-Tickets now on sale at City Hall. Bareback Riding, tie down roping, breakaway roping, saddlebronc riding, steer wrestling, team roping, barrel racing, and bull rinding
 Youth Dance-8:30-11:00 pm @ Creekside Park tickets are $7.00 at the dance
Saturday 10th
Floag Ceremony
Pancake Breakfast-6:40 am @ creekside park. Pancakes, eggs, fruit & drinks.
5K 7:00 am @ fire station
Toddler Trot-8:30 @Fire Station
Parade-10:00 am
Quilt & Art Show-111am-4pm @ Mountainville Church
Pig Wrestling-1:00pm @ Creekside Park
Rodeo-Tick now on sale at City Hall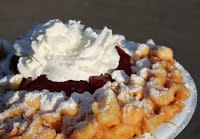 Lindon City Days:
Friday 9th
Lindon Old Time Fair-Veterans Hall
Farmers Market-Veterans Hall
Open Stage Talent Show-Lindon City Park
Family Arena Events-Arena
Youth Dance-Community Center
Saturday 10th
5K Race/Kids Fun Run-Lindon Community Center
Flag Raising-The Pavilion
Pancake Breakfast-The Pavilion 
Grand Parade-Center Street
Fair in the Park-Lindon City Park-Lower Area
Mini Rodeo-Arena
Fire@ Will Concert-Pheasant Brook Park
Fireworks-Pheasant Brook Park