Its the First Friday of the month, and that means its time for the Provo Rooftop Concert Series! This is one of my favorite Summer activities in the Valley. Each month new local bands are highlighted in this one of a kind free concert. If you get hungry, just stop by Restaurant Row to get something amazing from the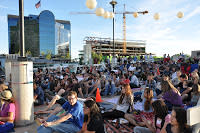 Downtown restaurants right next to the concert. This month Mindy Gledhill with Mideau & Scott Shepard will be performing. Mindy is an "indie singer songwriter", she has a new album coming out called "Pocketful of Poetry". It will be released on September 10, 2013. Check her out below. Mideau is the art pop duo of Spencer Harrison and Libbie Linton. They two have a new album coming out in September. You won't want to miss their unique sound and style. Opening the night will be Scott Shepard from Book on Tapeworm and recently Oceanear.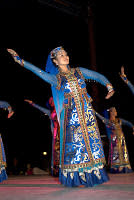 Make sure you have time for the 27th Annual Springville World Folkfest. Come and experience the color and excitement of traditional folk dance and music from around the world. This is the largest festival of folk dance and music in the United States. They have approximately 300 performers dressed in brilliantly colored costumes from their native lands.  The performances take place at the outdoor stage located in
Spring Acres Arts Park in Springville. Before the evening performances at the park, audience members can sample treats from around the world at international food booths, mingle with performers and purchase items from the various folk dance groups. This is a fun family event or good for a night out. Adults are $8 and Children are $4.
If you are hungry this weekend make your way to Payson for the 59th Annual Payson Salmon Supper. They fly in thousands of pounds of fresh Alaska salmon for this hearty meal of fire-grilled salmon served with a baked potato, sweet local corn on the cob, salad and dessert. The salmon is cooked by local firemen wearing their yellow coats. Musicians and singers perform to the crowd as they wait in line. Its a great meal and a fun time is had by all.
    Did your letter from Hogwarts never come? This weekend get on the Hogwarts Express leaving the Heber Valley Historic Railroad station for the rest of the weekend. Put on your robes and grab your wand and ride the Wizard's Train. Enjoy Wizard's Brew punch, treats like chocolate frogs, and every flavor beans. Remember that the train is not climate controlled and you should dress accordingly.
Other festivals taking place this weekend are: 36th Annual Highland Fling and Orchard Days in Santaquin
Next weeks festivals: Alpine City Days, Lindon City Days,