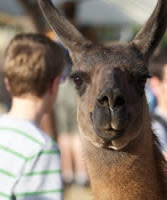 Hello there my weekend warriors. The sun is shining, the birds are singing, and it's time to get pumped for the weekend. There is so much going on this weekend, so don't waste it. Lets start with something that is truly unique...
The 19th Annual Llama Fest.
It's tomorrow, July 20, 2013, at the Krishna Temple in Spanish Fork. Bring the whole family for a fun and educational experience. This festival stays true to its original purpose, "highlighting llamas and their owners in a cultural context of food, music, spinning and weaving demonstrations, music, dance, and competitions." They even have a showcase of Andean craft items like jewelry, rugs, shawls, carvings and clothing. Come hungry because the food booths will offer south of the border favorites like chili, nachos, emphanadas, braised vegetables with fried curd, bread pudding, spicy wraps, and lemon mango fruit drinks. The kids can enjoy the baby llama corral where they can see them up close.
       Trying to come up with a date night idea? Well do I have one for you!
Open Air Ballroom
at the SCERA. Bring your dance partner and learn Latin Ballroom basics under the stars at their outdoor courtyard gardens. For the first half you will learn the moves, the last half you can shack what your mama gave ya at a mini dance. Here is a song to get you in the dancing mood.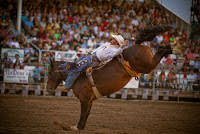 It's time for the Rodeo-the
71st Annual Fiesta Days Rodeo
that is. With four action-packed nights of top professional rodeo action, bucking horses, the ferocious 1-ton bulls, the brave (and attractive) cowboys and cowgirls. Rodeo events include: bareback bronc riding, steer wrestling, team roping, tie down roping, bull riding, saddle bronc riding, women's barrel racing. July 20, 22 children get in for only $6 and adults for $11 (grandstands spots are $13.50). On July 23 and 24 children and adults are $13.50 (grandstands spots are $16.50). American Fork is also finishing up their annual festival
Steel Days
this weekend. The Grand Parade starts at 9:30 am on Saturday July 20, 2013.
    After all this fun in the sun stop by Coneys Frozen Custard in Orem for "Christmas in July." They are having sales on custard, two flavor of the day, Nutcracker and Peppermint Candy Cane. The really cool part of this event is that Cheryl Love will be there from 12-4 signing her new novel "Christmas Love."      
Shows closing this weekend:
The Sound of Music
The Blue Bird Cafe Series
Red nation Promotions Presents: We Are Alive