Don't let the rain get you down today. There is still lots of summer fun to be had this weekend. As always Utah Valley has something for everyone. So put on that rain jacket and hat, its time for the weekend roundup.
The Arts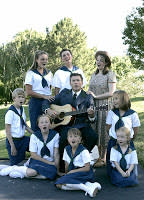 The Von Trapp family at
 the SCERA Shell
       Start your weekend off right with the
Sundance Resort Bluebird Cafe Series
. A little bit of Nashville comes to Utah with this one of a kind concert series. This event is all about singer/songwriter/musicians telling the history behind the music.This week's performers include Don Henry, his songs have been recorded by Ray Charles, Patti Page, Conway Twitty, Blake Shelton, Lonestar and Miranda Lambert. Kim Richey, she has been nominated for two Grammy, and Jack Tempchin who is best known for the classsic song, "Peaceful Easy Feeling," recorded by the Eagles. If that doesn't make the hill (or should I say mountain) come alive with "
The Sound of Music
" for you the SCERA Shell Outdoor Theatre sure will with its version of the beloved family musical. Watch as Maria teaches the children to sing and Captain Von Trapp to love.        
Festivals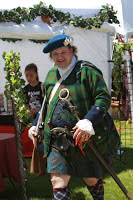 Kilts not required but welcomed!
 Who hasn't wanted to wear a kilt? No one that's who. Now you can at the
30th Annual Payson Scottish Festival and Highland Games
in Payson. Come and celebrate Scottish traditions in all its forms: dance, music, food, and entertainment. Fun starts tonight (July 12) with food and entertainment at Memorial Park, and things really heat up tomorrow with a Highland Athletics,
bagpipe competitions
and  dancing (sword dancing that is). Then take a trip down to Mona for
Lavender Day
at the Young Living Lavender Farms. Celebrate with a jousting tournament, old western town shootout, distillery tours, arts and crafts, a fairy tea party and much more.
Lavender Day at
Young Living Lavender Farms
     On the other end of the Valley we have
American Fork Steel Days
. They have so much going on, so take sometime to enjoy everything. Start with the Car Show and Soap Box Derby this weekend and then hit up the rest of the events next week into the weekend.
Free Events
The Shops at Riverwoods isn't just about great shopping and fantastic food, it's also about great music. Tonight you can enjoy the musical soundings of
Boris Lukowski
in the pavilion. Saturday morning can find us at the
Provo Farmer's Market
. It's the best place to get local produce from farmers and home gardeners. If you're looking for something unique and one of a kind you can find it at the farmers market with all the arts, crafts, live music and amazing prepared food.
For a full list of event click
Here