Its the first weekend of Fall and there is so much to do in Utah Valley. Take a look at all the festivals and events taking place.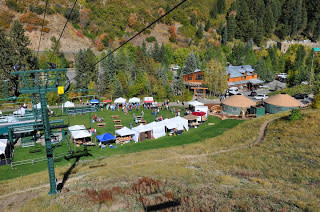 17th Annual Sundance Harvest Market:
The Harvest Market features musical entertainment, amazing food, and a myriad of artistic hand crafted items. The brilliant fall foliage amid the splendor of Mt. Timpanogos provides a beautiful backdrop for this event each year.
         Price: Free
         Date: September 28, 2013
Utah Valley Renaissance Faire
: Join the fun at Thanksgiving Point's 15 acre Electric Park for a variety of activities that the whole family will enjoy. Events include live state performances, jousting by the Knights of Mayhem, archery, sword fighting education and demonstration, exotic foods, and Grassroots Shakespeare plays.
         Price: $10 Adult, $8 Students and Seniors, under 12 $6, under 6 free
         September 27-28, 2013
27th Annual India Fest:
This festival features world class entertainment, cuisine, art, photography, cultural exhibits on India, a gala pageant of the epic Ramayana, the burning of a 25' high ten-headed demon named Ravana, and spectacular fireworks.
          Price: $3 Adult, $1 Children
          Date: September 28, 2013
Hee Haw Farms Fall Activities
: This weekend is the start of the Hee Haw Farms 12 acre corn maze, pumpkin patch, hayrides, haunted walk through, and many more activities. This is great Halloween fun for everyone! They also have pig chases, Trick or Treat Hayride and farm favorites like pony rides, corn cannon, pedal karts and much more!
           Price: Prices varies on activity
           Dates: September 28-November 3, 2013
Harvest Festival and Giant Pumpkin Weigh Off
: The Giant Pumpkin Weigh-off is an autumn tradition at Thanksgiving Point. As they weigh the pumpkins guest can stroll through the vendors at Water Tower Plaza or stop for a bite to eat at one of the many food vendors. They even have a kids activity tent!
          Price: Free
          Date: September 28, 2013
BYU Football Vs. Middle Tennessee State

:
Come out and watch this home game vs Middle Tennessee State.
           Price: varies on seat
           Date: September 27, 2013