During the holiday season, everyone will be able to enjoy amazing Christmas treats and world-renowned light displays in Utah Valley. With so much to do this time of year, it can be hard to decide on the best ways to celebrate Christmas. Here is a list of the best places to see Christmas lights while also satisfying your sweet tooth.  
Thanksgiving Point: Luminaria Village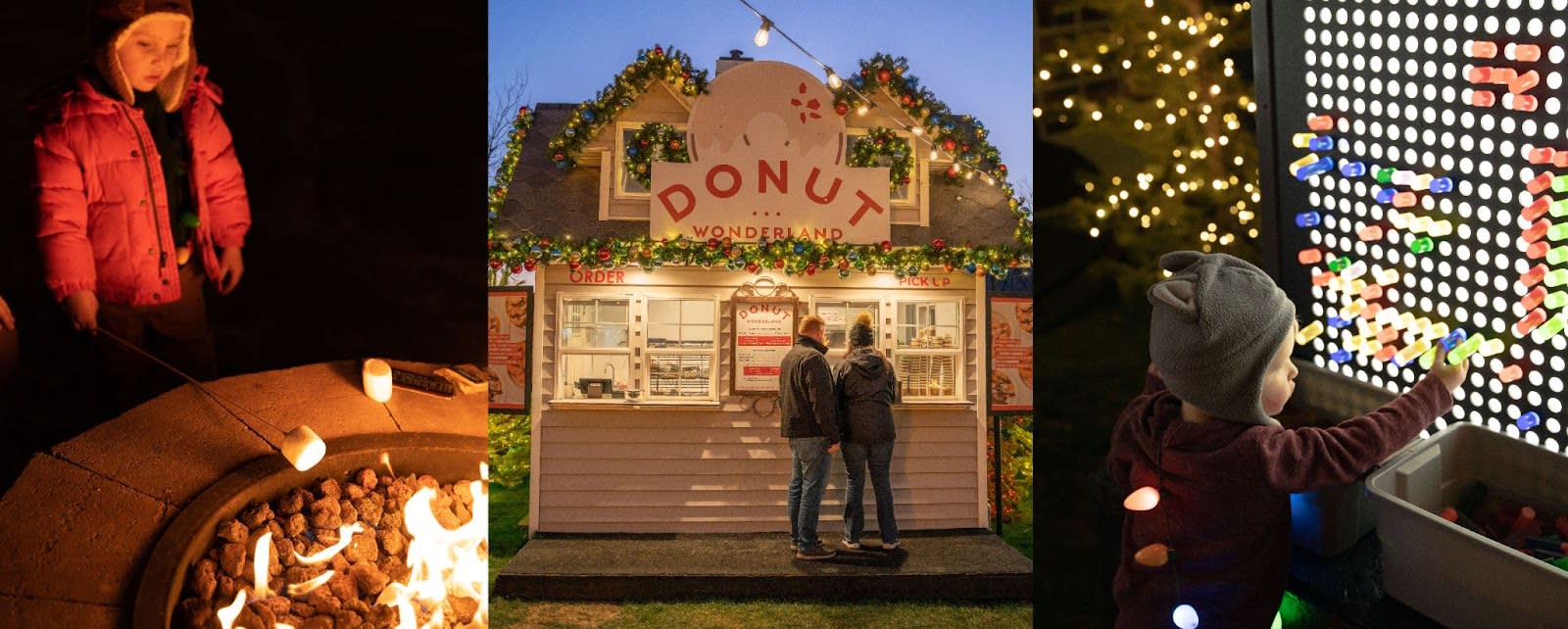 Thanksgiving Point's is a beautiful place to view light shows and sample some delicious warm winter treats. This winter wonderland has been featured on ABC's Great Christmas Light Fight: Season 8 Heavyweight Edition.
There are concession stands throughout ThanksgivingPoint's festival of lights, but Luminaria Village is one of the most popular stops in the gardens.  The village is next to the beautiful hill of 6,500 luminary lights. These themed houses serve mini-donuts loaded with toppings, cinnamon almonds, and smores kits that can be cooked on open fires.
Flavored hot chocolate or apple cider are also great options for staying warm while spending time at this amazing Christmas experience.
This light display begins November 17, 2022 and ends December 31, 2022. Monday - Saturday, Closed on Sundays, Thanksgiving, Christmas Eve and Christmas. Time slots are from 5:00 PM - 9:00 PM. For more information and tickets, click here.
Evermore: The Kettle Cafe & Vander's Keep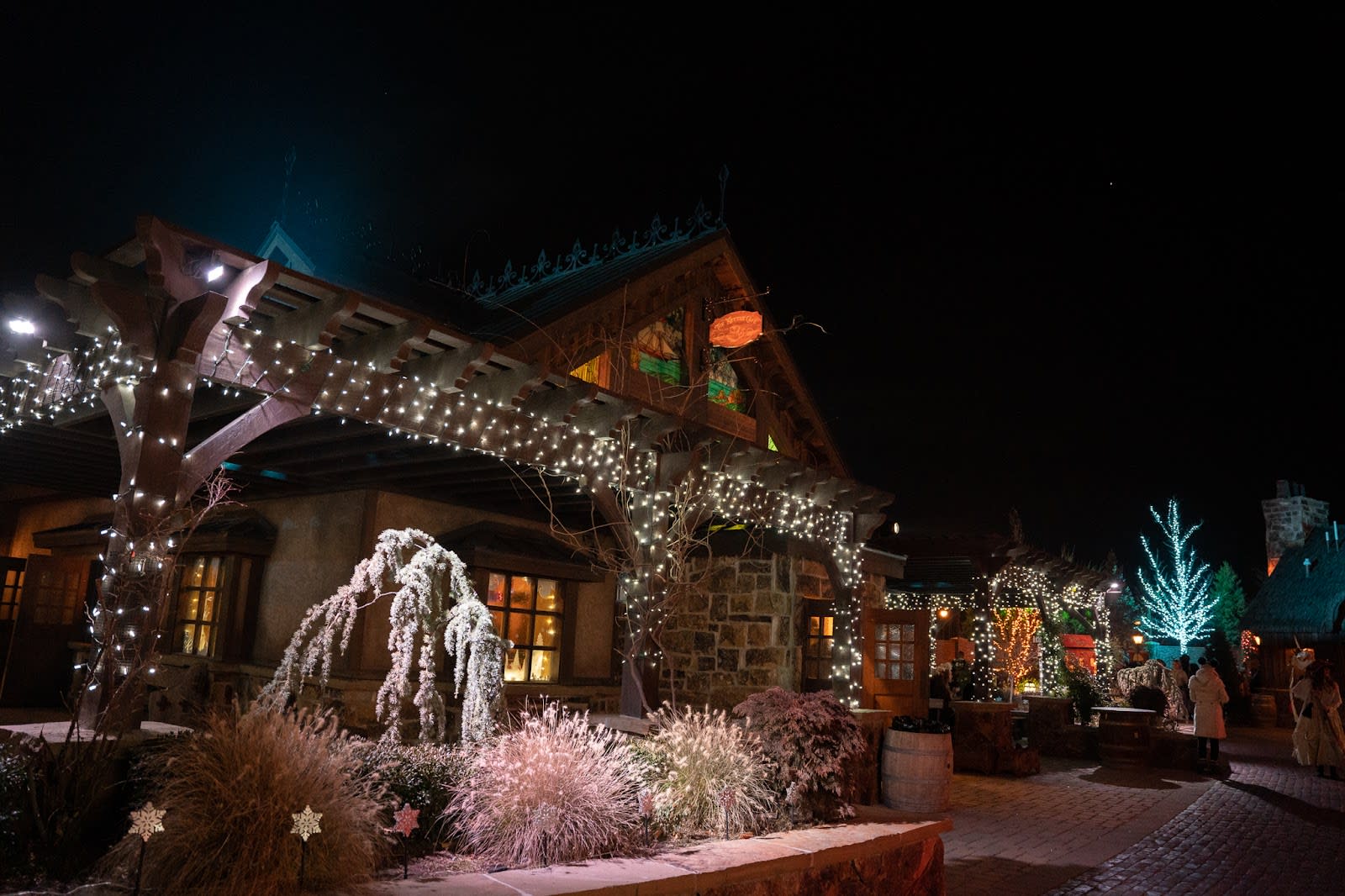 Evermore Park, located in Pleasant Grove offers an unforgettable Christmas experience. During the month of December, Evermore transforms into Aurora. This Magical Old European Christmas Village features a variety of Fantasy Themed Characters such as Santa & Mrs. Claus, Elves, and Dwarfs
Guests at Evermore have the opportunity to practice archery, ride the Evermore Express Train, and see the beautiful Christmas town. The food that they serve at Evermore is undoubtedly one of the most memorable parts of the experience.
For casual goodies, The Kettle Cafe is the place to find fresh baked pastries like tiramisu, cheesecake, chocolate domes and more. For those looking for Santa, this cafe is also the best place to spot St. Nick. 
Vander's Keep, a Norse / Celtic themed restaurant, serves mouth-watering bread pudding with ice cream and caramel sauce. 
The Shops at Riverwoods: Süss Cookie Co. & Cake Creation Studio

With 1 million lights on display, the Shops at Riverwoods should be on everyone's list of Christmas light displays. You'll enjoy ice sculptures, a holiday carousel, and Santa Claus himself. You can also stop and order delicious cookies from Süss Cookie Co.
Süss Cookie flavors this month include cocamel (a soft shortbread cookie), gingersnaps, and Christmas sugar cookie. I don't know what's in their sugar cookie recipe, but it is divine! If you aren't sure which cookie to buy, head in to try some samples before making your decision. Each cookie sample will melt in your mouth.
Outlets at Traverse Mountain: Rocky Mountain Chocolate Factory & Auntie Anne's Pretzels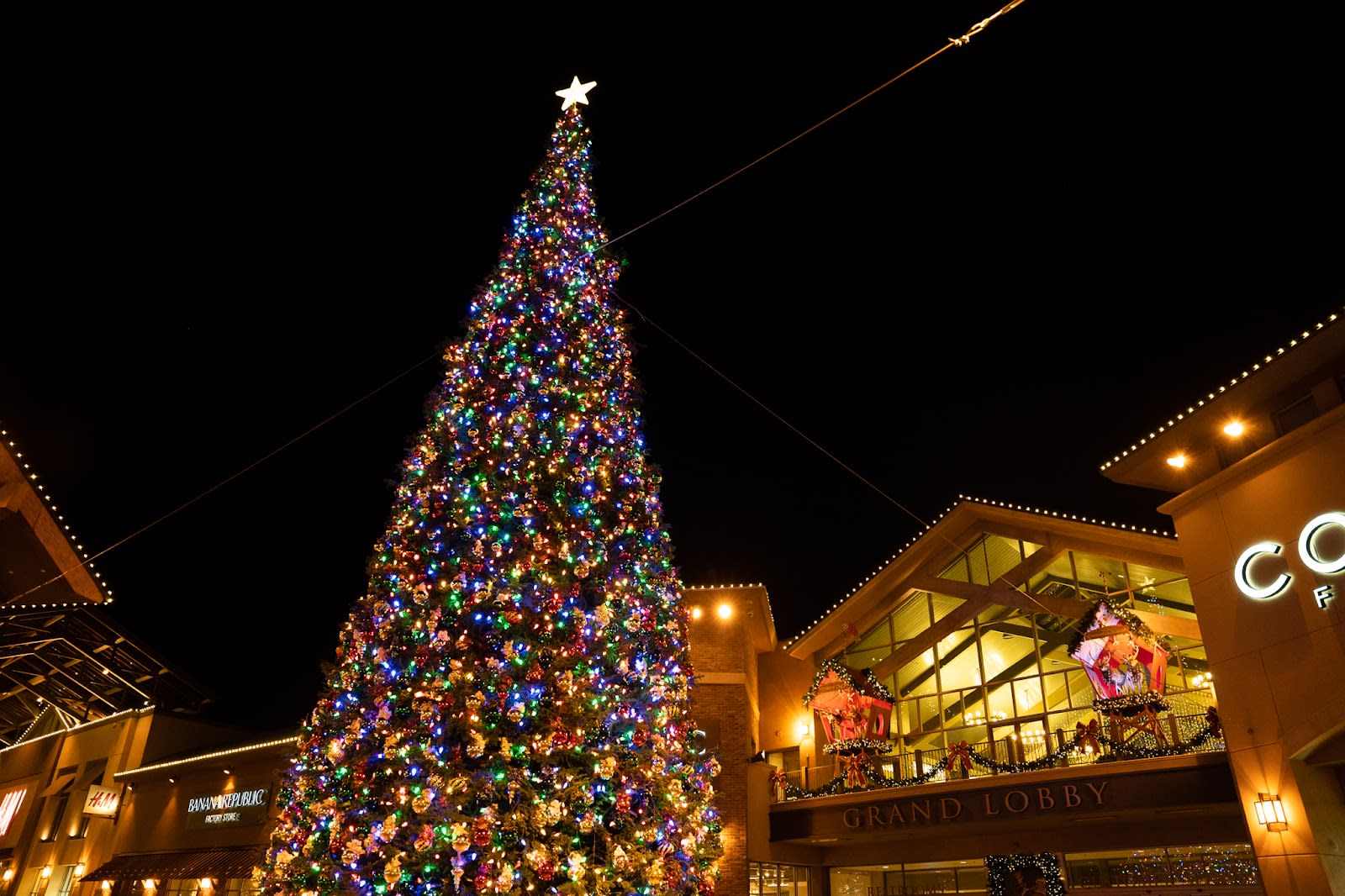 Boasting Utah's tallest fresh cut Christmas tree, the Outlets at Traverse Mountain is a perfect stop to experience holiday magic. The tree is over 70 Feet Tall! You can also see animatronic reindeer and gorgeous light displays.
Rocky Mountain Chocolate Factory is located inside the outlets and is a must for decadent chocolate truffles, caramel apples, and turtles.
Auntie Anne's Pretzel shop is also a perfect place to stop by with their seasonal Snowball Pretzel Nuggets. Santa Clause can also be found here. His house is close to Auntie Anne's and H&M. 
For more light displays check out Best Holiday Light Displays in Utah Valley. If you need more gift ideas check out Experience Gift Ideas in Utah Valley.