Utah knows dinosaurs! In fact, Utah is home to one of the top-10 places to discover dinosaur fossils in the US. Our prehistoric allure brings in thousands of tourists every year. The sheer variety of dinosaur species discovered here makes Utah extremely special  – carnivores and herbivores, quadrupeds and bipeds, Jurassic and Cretaceous!
Looking at fossils is so incredible - have you ever wondered what those dinosaurs would look like in person? This summer, you can check out some of Utah's most famous dinosaurs in the flesh at Thanksgiving Point's Dinosaur Island! Stationed throughout the Ashton Gardens are 27 life-sized, animatronic dinosaurs that move and roar right in front of you – some of which were discovered right here in Utah: 
The Allosaurus:
Utah holds the greatest deposit of Allosaurus bones yet to be discovered in the entire world. Jim Madsen, who went on to become Utah's first state paleontologist, was digging in the Cleveland-Lloyd Quarry in the Morrison Formation when he found a bonebed containing over 50 Allosauruses of all ages. A new Allosaurus species was announced in 2020, named after the man who discovered so many of them: Allosaurus jimmadseni. The resident paleontologist over the Museum of Ancient Life at Thanksgiving Point, Rick Hunter, discovered an Allosaurus jummadseni himself in 2002 while on a dig in Wyoming! The Allosaurus is Utah's state fossil and was one of the scariest predators of the Late Jurassic period.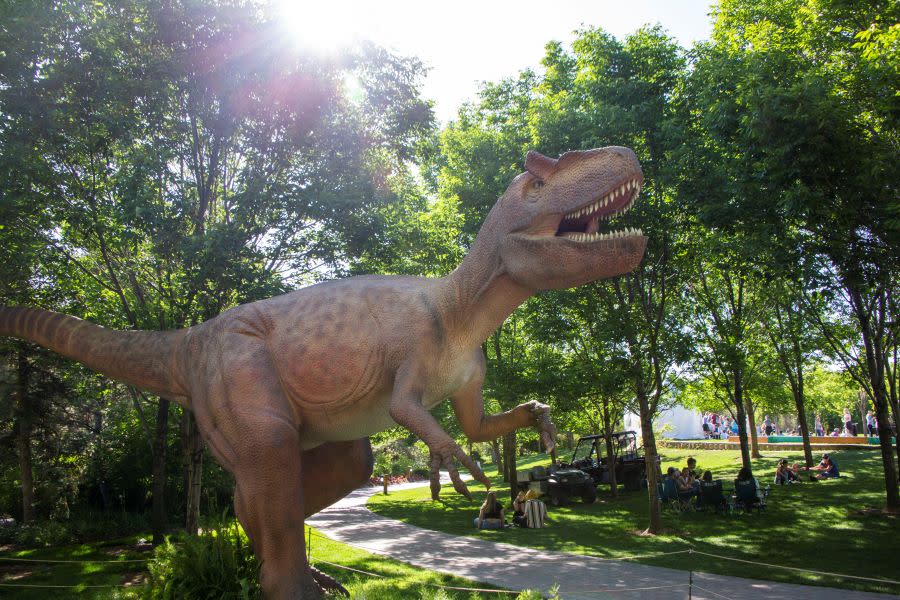 The Utahraptor:
The Utahraptor was discovered by James Kirkland in 1991 in the Cedar Mountain Formation – though he described and named it based on a small amount of fragmented evidence. It wasn't until 2001 when a grad student found bones on a cliff face and called James for help, did the big discovery occur. The find resulted in a 10-foot-long and 9-foot-wide block that weighed nearly 9 tons. With the help of a track haul and some guardrails supporting the beams that the block was placed on, they got the bed of dinosaur bones back to the Museum of Ancient Life. They worked on it for five years, barely scratching the surface, but already finding six specimens – one adult, two subadults, and 3 small babies.
The Utahraptor is the biggest raptor ever discovered and is believed to have been feathered. Utahraptor is Utah's State Dinosaur.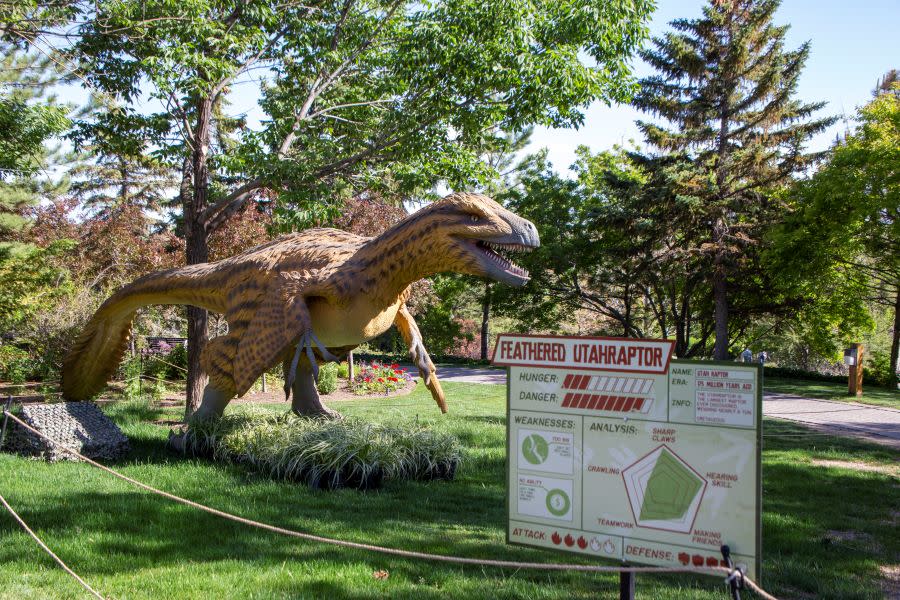 The Kosmoceratops:
The Kosmoceratops is a newer discovery with its first fossil being found by a Natural History Museum of Utah volunteer in 2006. This fossil was uncovered in the Kaiparowits Formation of the Grand Staircase-Escalante National Monument. They have features like Triceratops, but instead of just three horns, they have fifteen, several of which are at the top of their frill curving inward. While you might think these horns would've been used for protection or defense, paleontologists believe they may have been used to attract mates. It's certainly a fashion statement!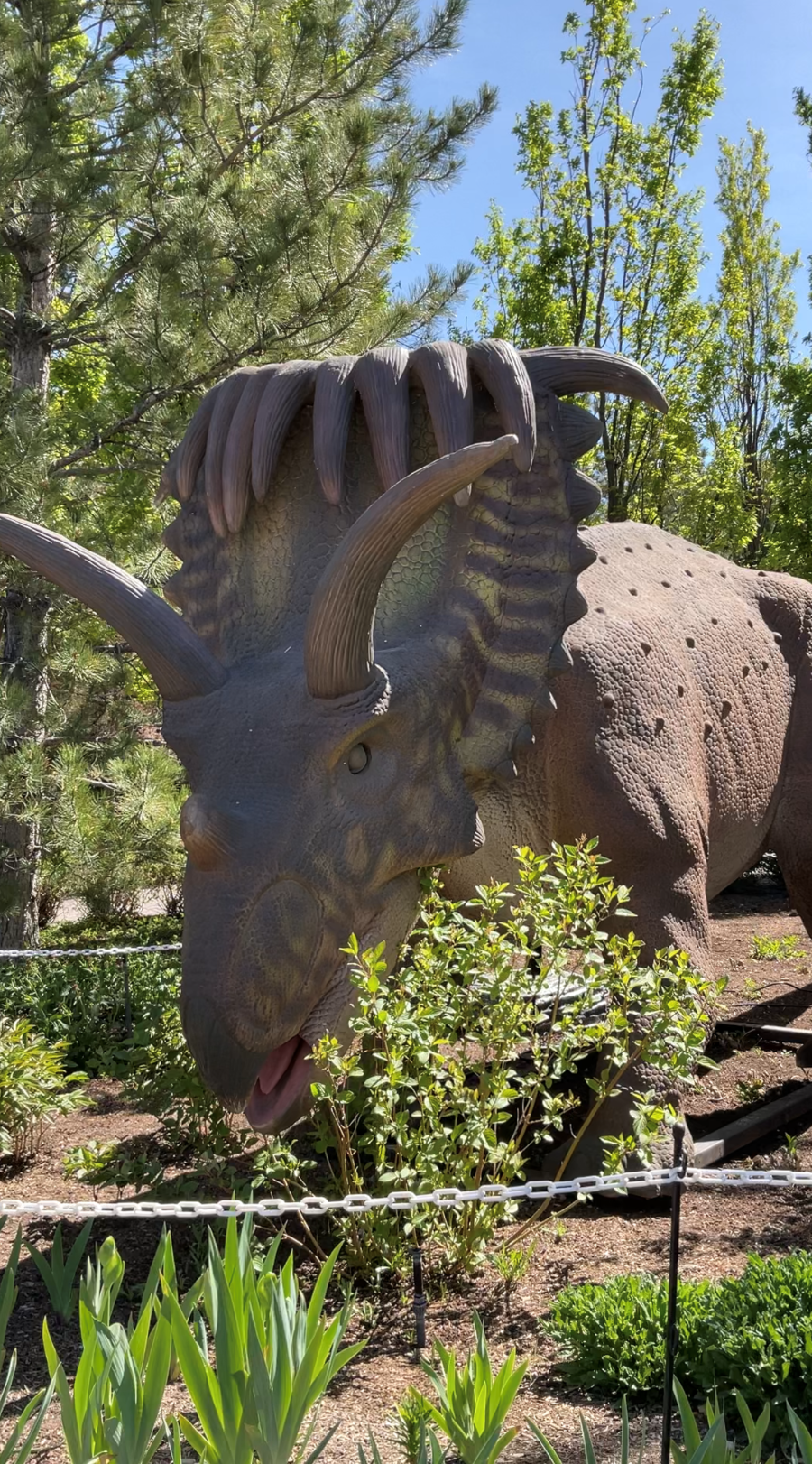 The Brachiosaurus:
The Brachiosaurus also lived near the Morrison Formation, but only a few fossils have been found. They're hard to find and especially hard to move. In 2020, a team of paleontologists found a Brachiosaurus humerus in the Formation that weighed nearly a thousand pounds. To safely move it, they wrapped it in a protective jacket, attached it to two pieces of wood, and brought in two horses to help pull the prehistoric load. While alive, these dinosaurs weighed around 58 tons and were about 13 meters tall. Seeing this life-sized creature munch at the tree leaves across the walking path at Thanksgiving Point is truly amazing and really puts these creatures into perspective.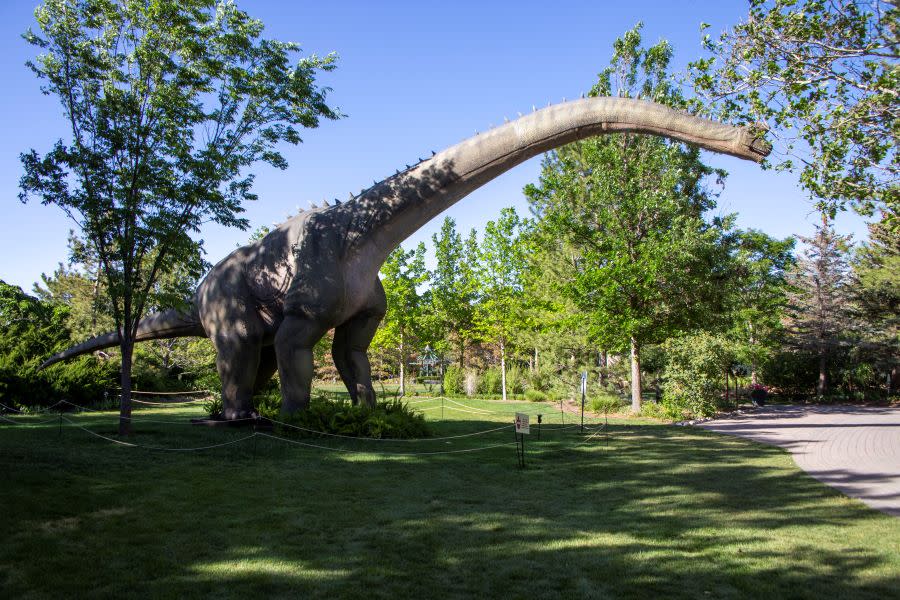 While explaining the process of prospection and excavation, Thanksgiving Point's Paleontologist Rick Hunter says, "When you find that trail of breadcrumbs, it's just the beginning of what's being exposed." Utah is full of breadcrumbs, and at Dinosaur Island, we're proud to show what some of those breadcrumbs have revealed! 
Come see for yourself what these creatures would have looked like in their prime!
Dinosaur Island tickets can be purchased now at Thanksgiving Point's website. The event is open until August 27, Monday – Saturday, from 9 am to 8 pm. Be sure to check out add-on experiences to make your visit even more adventurous. To see one of the largest fossil collections in the world, don't forget to stop by the Museum of Ancient Life and see the science that proves these dinosaurs existed.
----------------------------
Other awesome activities at Thanksgiving Point include Farm Country, the Butterfly Biosphere, and the Museum of Natural Curiosity. After venturing into this prehistoric expedition and seeing the dinosaur bones, consider checking out one of Thanksgiving Point's other fun venues. Thanksgiving Point offers an Explorer Pass, granting one-day admission into all five venues. There are so many memories to be made this summer at Thanksgiving Point!
----------------------------
Looking for more fun things to do in Utah Valley? Check out Explore Utah Valley's day trips & itineraries or these ideas for summer adventures in Utah Valley.