The Shops at Riverwoods have been giving away pumpkins at Malawai's Pizza but have just run out! They gave away these pumpkins with hopes that recipients would bring back their pumpkin carved beautifully to be entered into their pumpkin parade/contest.  All pumpkins brought in will be lit and put on display at the darling Riverwoods shopping center.
 However!
We have found out that even if you didn't claim a pumpkin from Malwai's, you can still bring your own pumpkin to The Shops at Riverwoods to enter their contest/pumpkin parade. Your carved pumpkins are due tonight (Thursday) so make sure you get them down to the shops! If you didn't carve a pumpkin, hop on down there anyways to see all of the entries. The first place winner will claim $200, 2nd $100, and 3rd $50! The pumpkins will be lit everynight of the pumpkin parade.  We thought this would be such a fun tradition to start with your kids!
 Grab a fall apple pie caramel apple from Rocky Mountain Chocolate Factory and enjoy the fall air. Riverwoods is fabulous during holiday seasons!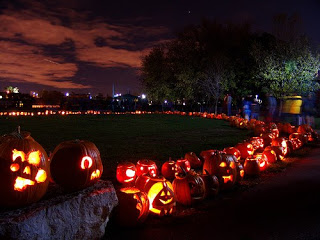 (This photo was taken from the Shops at Riverwoods Facebook page)