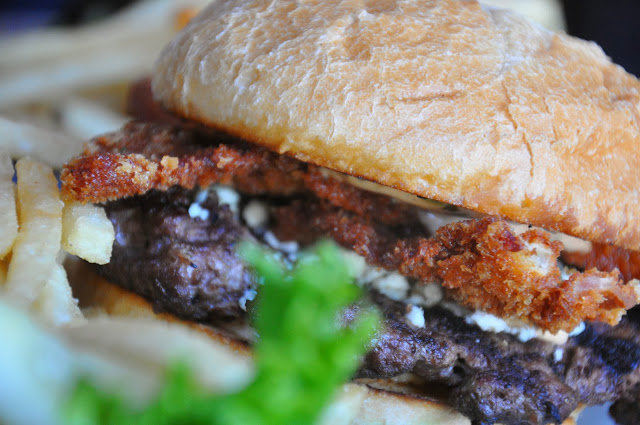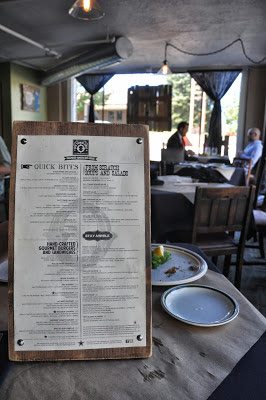 We had a great time at The Old Towne Grill in Provo. They are located inside The Madison building on 295 West Center Street. It is such a fun set up for a Restaurant. We were greeted the minute we walked in and were shown to our table. We had a choice between being seated inside or outside under these amazing umbrellas. We picked to sit inside so we could enjoy the feel of the restaurant. The walls are decorated with wood art, and we found out it was all made by a local artist the owners found at the farmers market. All the chairs are antiques and none of the appetizer plates are the same. This made for a really cool set up! It almost felt like I was at my Grandmothers home enjoying a home cooked meal. Another cool thing they do at the restaurant is serve drinks in mason jars. The menus come on custom built blocks of wood with metal brackets.  
Then our meals came, and the whole experience got even better. We tried the Flash Fried Artichokes. I have never had these before, but I will be having them again next time. We both had burgers for the entree. They were amazing! All the burgers are hand pressed in the restaurant, and you can taste how fresh they are. I had the Old Towne Burger, this thing is so good it has won them the "Best Taste of the Valley" two years in a row. It is a half pound burger with blue cheese, bacon, caramelized onions, and their signature Madison sauce. I should probably take a minute to tell you I could eat their Madison sauce on everything, I liked it that much. I even got some to dip my fries in. The bacon on this burger isn't your normal bacon, it is flash fried. The blue cheese and caramelized onions mix together to for a great tasting burger. My partner in crime had the ABC Burger. This is a half pound Angus patty with avocado, bacon, and cheese on an old fashioned bun. The fresh avocado and crispy bacon really added to the taste of the Angus patty.They have a full bar so you can enjoy a drink with your food, as well as a family area for those with children. They even have a kids menus for those smaller members of your family. There is a place for everyone at this restaurant!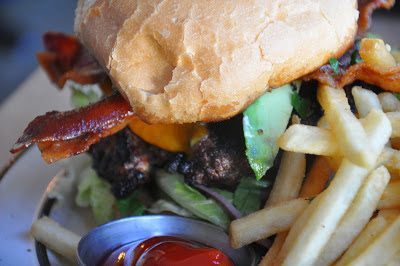 We talked with Adam, one of the owners of the restaurant, to find out a little more about he history. The Old Towne Grill has been open for a little over a year. When they were looking into opening the restaurant they ate at 25 different restaurants in Provo before they picked what they wanted to do. They feel the The Old Towne Grill fills a needed space in the Provo dining scene.
There are many must haves at this restaurant. I would put both the burgers we tried on the list to start with. Also the Madison chicken sandwich, 300 west burger, and the street tacos.
 They are open until 10:00 pm Monday-Saturday.