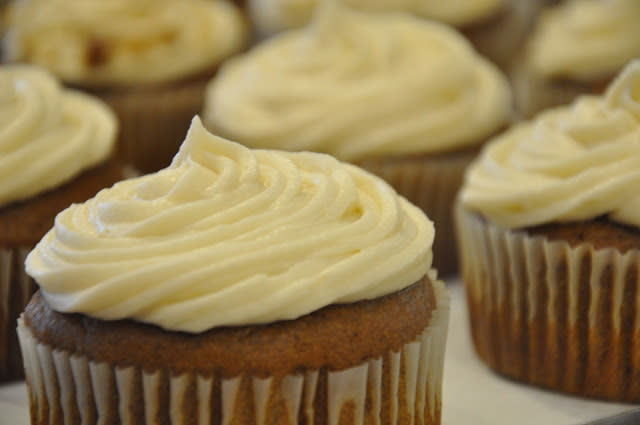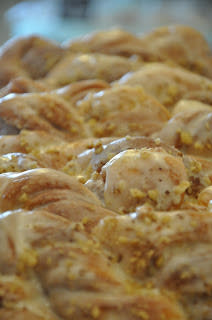 When you walk into Shirley's you are hit by the smell of sweet bread mixed with cooking bacon. At that point we knew we were in heaven. The restaurant itself is so cozy and welcoming with a fireplace and barn doors. (Side note: the shingles on the fireplace were donated from a local historical home.) As you walk up to order you see all the amazing baked goods. They have cupcakes, cinnamon walnut twist, cookies, and their famous sweet rolls. We tried the pumpkin spice bread, and loved every minute of it. This is some of the moistest bread I have ever had. It was covered in homemade frosting and nuts (and yes it was bread because we were eating it in the morning). Everything in the restaurant is made from scratch in the restaurant. Nothing is pre-made or frozen. It takes a year to create a recipe that can be sold in the store. The bakers come in at 3 or 4 in the afternoon and work all night so everything is done by the morning. Each batch takes anywhere from 6-8 hours to complete. Then they are frosted and ready to buy.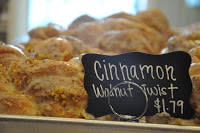 There are a few must haves in this store. The first is the sweet rolls. Everyday they make the raspberry, blueberry, cinnamon, and orange. You can special order the coconut and lemon. These things are so good. The restaurant logo is "baked with love" and you can taste it in these. Also try the coconut swirl, the cinnamon walnut twist, and the lemon poppy seed cupcake.
The sandwiches are a must try in the afternoon. All the meats are roasted in the restaurant and all the spreads are Shirley's own recipe made fresh in the restaurant. The only thing they don't make is the mayo and mustard! Try the turkey stuffing sandwich, its like Thanksgiving all year round.   
We talked with the manager Michelle about the history of the restaurant. She told us that Shirley's first started in Canada when she was very young. Her mother needed something she could do from home to support her 4 daughters. People kept asking for her rolls, then they started asking her to cater events.Soon she was asked to put her rolls in stores. She redid her whole basement into a professional bakery and started. She wanted to go back to school, so she moved the family to Utah. When things got tight she started baking again, they opened the retail store and the rest is history. This new store has been a dream for a long time.  

The restaurant is open Monday-Saturday from 6:00 am-9:00 pm. They are located at 1618 North Freedom Boulevard in Provo next to the SpringHill Suite.