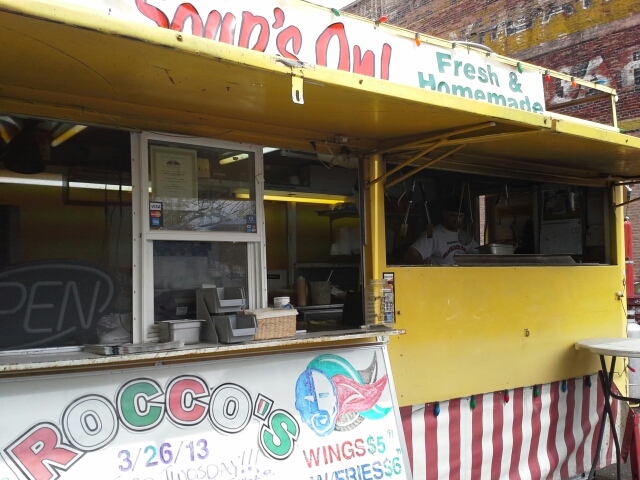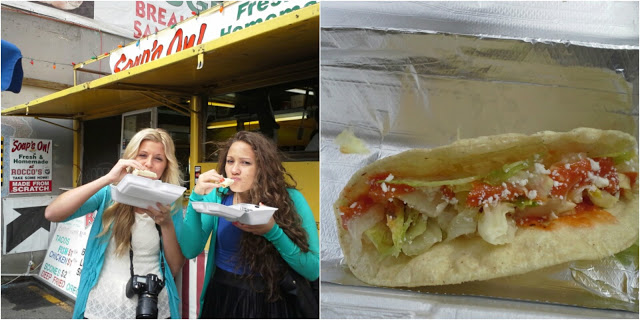 Today was absolutely beautiful!  So we decided it was the perfect day to venture on down to Rocco's Tacos, an awesome taco van with a Hawaiian beach vendor type feeling.  We loved it, and felt like it was the perfect change away from the usual. We are becoming quite the fans of the food trucks that are popping up around the Provo area!  Here's what we found out about it:
What is your best seller?  Fish Tacos
Favorite thing?  Fish Tacos (AKA you have got to try them!)
When did you open?  We opened in February, and we just had to make it through winter to enjoy the beautiful summertime.
Who owns Rocco's? C.J. Gandolph owns Rocco's Gandolph, and because of that the person we interviewed had grown up making food on that very corner.
Who comes to Rocco's usually, a certain type of person?  Not at all! we have all kinds of visitors... professionals on lunchbreak, families, construction workers, a lot of Indie kids...you name it!
What types of foods do you offer? We have wings, tacos, coffee, cocoa, scones, soup, fried oreos, fries, and other fried things.
Where did you come from?  We were originally living in St. George, then we moved up here to Utah Valley to give it a go with our food cart.
What food you offer in the Winter?  In the summer, it will be Rocco's Tacos and that's our focus, but in the winter, it will be Rocco's soup Coupe.  We change with the seasons!
What else do you want your customers and future customers to know? There is no where that you can find food as inexpensive and satisfying than ours--and it's immediate gratification, no long wait at a typical restaurant.  I think that is part of why food trucks are popping up around Utah Valley and especially in Provo.
?