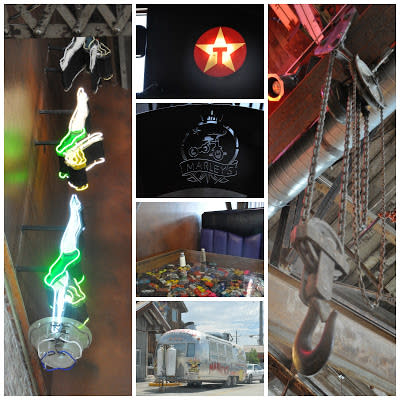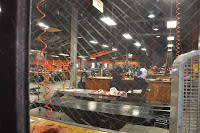 View from the restaurant

  I was so excited as we drove up to the Timpanogos Harley-Davidson building where Marley's Gourmet Sliders is located. I have driven by the building many times and I have always wanted to go inside. It was an amazing experience. The front entrances of the shop is full of new shinny bikes and old metal decor (side note the whole building is built from reused steel from Geneva Steel). To get to Marley's from this entrance we had to walk through the shop, we stopped to watch the service department fix up bikes. We then entered Marley's, first thing you notice is the route 66, eclectic American highway  feel of the place. They even have an neon sign of a girl diving like the old hotels advertising their swimming pools. This theme is found at the Harley-Davidson building and inside the other locations. The restaurant is packed with old signs and toys from that time. Some tables had over 400 bottle caps built in them, others are shadow boxes with everything from old Pez dispensers to firefighter badges. We talked to the manager, Bryan, who told us the Marley's is, "edgy enough for the riders, but fun enough for the kids." And it was so true, as I looked around at the other people in the restaurant I noticed the mix of riders eating as they waited for their bikes to get fixed, families, and business men on lunch from the offices near by.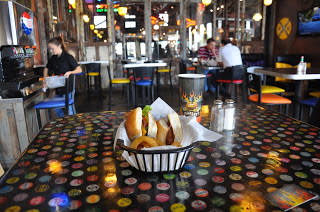 Great food and a fun space

     This would be a fun restaurant to check out for the atmosphere alone, but the food is phenomenal too. As the name says they have gourmet sliders, but they also offer salads, full size burgers, and homemade sides. We thought for our first time we should try the sliders. We had a burger and the pulled pork. You can order a slider named after an employee or make your own. We made our own, it was packed full of lettuce, pickles, tomato, grilled onion, cheddar cheese, bacon, avocado, and chipotle mayo. With the pulled pork we went with just the pork and BBQ sauces. One of the coolest things about this place is the free toppings. You can put as many or as few on there as you would like for no extra cost! We got the combo meal and enjoyed beer battered onion rings, I could just have a thing for onion rings but I was all about these. If you are looking to be healthy you can get the side salad with the combo. They have a slider for everyone, from burgers to grilled salmon. This is a must try in Utah County.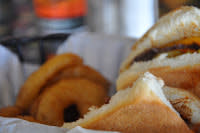 Sliders and onion rings


    Marley's also offers breakfast including all you can eat pancakes and french toast. The Lindon location is open from 7 am- 7 pm. Their other location is in the Shops at Riverwoods and is open until 9 pm on weekdays and 10 on Saturdays. You can also enjoy Marley's off site with their catering options.