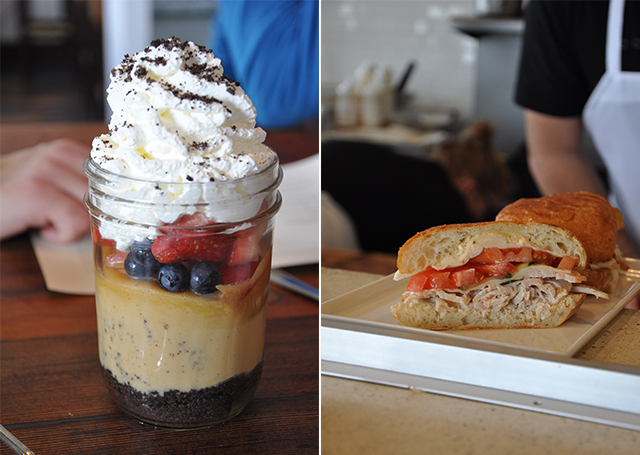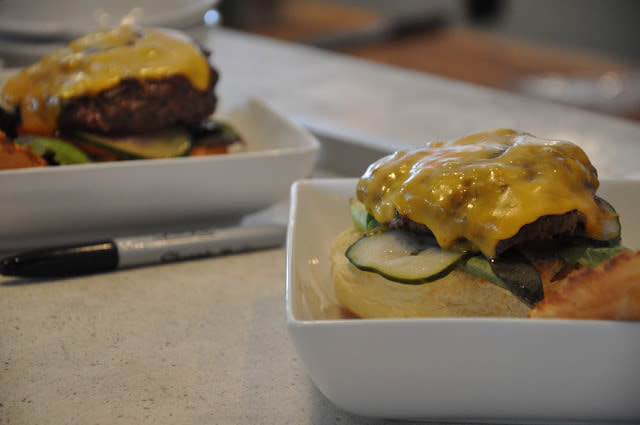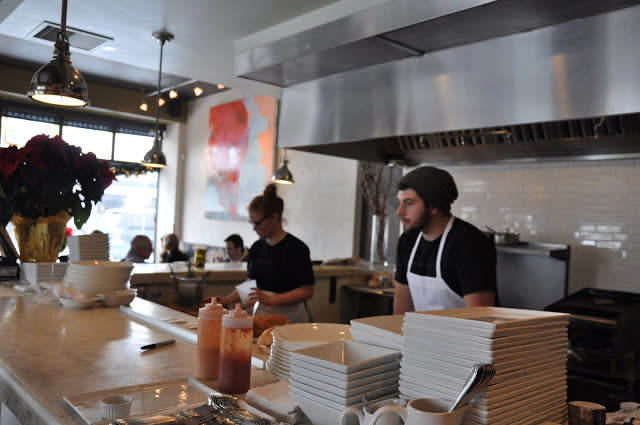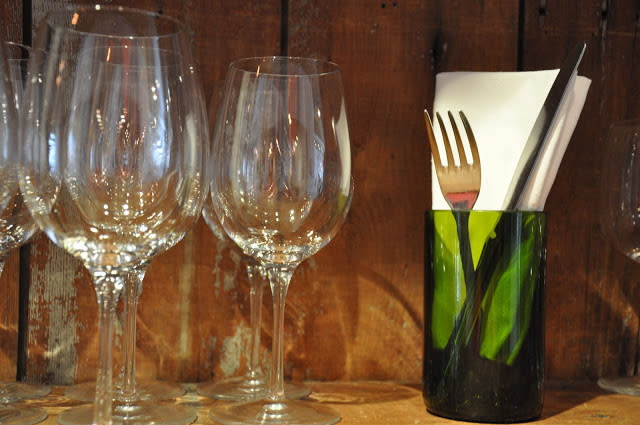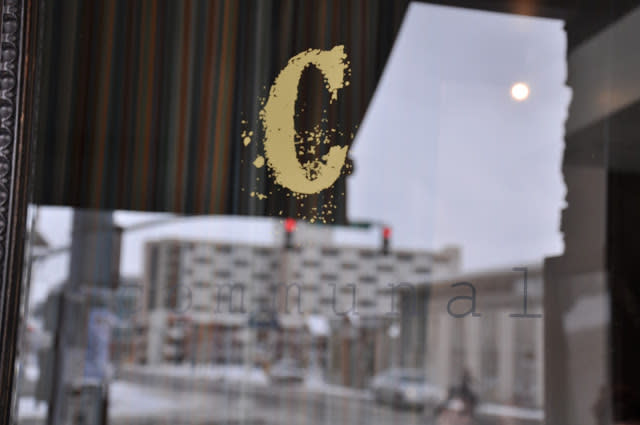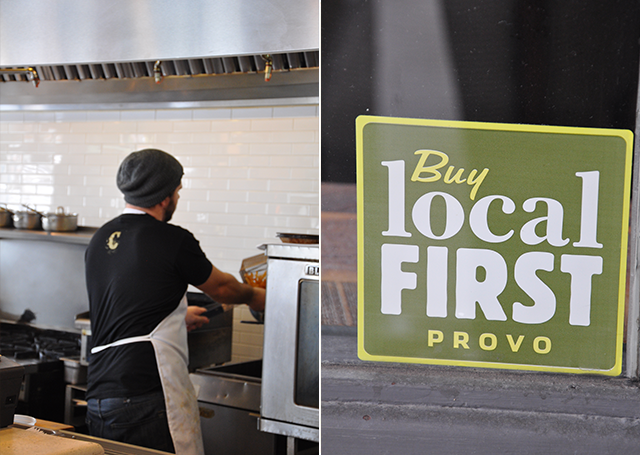 For an easy, complete search tool for all Utah Valley restaurants, click here

 

Communal:

an open kitchen-styled restaurant, known for it's wildly fresh cuisine and "big city dining experience" feeling, located in the heart of Provo. We are proud to say that we were able to stop in at this fine-dining restaurant and snag passionate Sous Chef, Vance Lott, and one of the owners for an exclusive inside look at what Communal is all about. And if there was one thing we noticed about this group, it was passion! Here's what we found out:

How did Communal get its start? The 2 owners of this restaurant, Colton and Joseph, used to work in Sundance catering then moved abroad to study & practice culinary work. They noticed the passion for food in other markets and dreamed to bring the same feeling home to Utah.  Due to their love of the Utah County area, they brought the restaurant to Provo.


Have you received any awards? Yes, recently named in the Top 100 Best American Restaurants.  The only other Utah restaurant to receive this honor is the Tree Room at Sundance. 

What makes it unique: Open kitchen/restaurant styled, 80% of products farmed locally/other 20% is farmed regionally, chefs butcher their own pigs, tailoring of dishes.

What is an open kitchen/restaurant style: Guests are invited to "commune" at Communal and the layout of the restaurant allows for just that. Tables are designed to be long and close to each other so guests can socialize and share dishes. The kitchen is also the most beautiful one in the state! Unlike other restaurants, the kitchen is right in the heart of the restaurant for all to see the masters at work.  Bar chairs are placed strategically near the kitchen so guests can enjoy the work and ask questions to the chef. Kids love it!

Is the restaurant kid-friendly? Absolutely. While most of the guests are adults, the menu is extremely kid friendly.  Food offered is delicate and never too spicy-perfect for kids and picky-eaters.  The menu is also simple: salad, protein, side.  Since the cook makes food fresh and the menu is simple, dishes are very super customizable for guests. Really, you can ask for anything you'd like!  They can even make gluten-free dishes and special kid's dinners based on requests.

What style of serving?: Family style! Again, this is a signature trait of Communal that isn't seen as often here in Utah as it is in larger cities. After ordering, all dishes are brought out at once (unless request differently), so your salad and entrees come together.  This way, you aren't waiting for your next dish but can share with those around you. And if you don't want an appetizer (salad, etc.) you don't have to! Portions of each dish are large, which enables you to share with your entire table. This serving style is designed to give you the feel of a "family meal" at mom's.

Several restaurant now offer local products, what's different about Communal? Most restaurants that farm locally, only use about 50% local.  Communal uses 80% and if they can't get it locally, they at least go regionally and pull from the West Coast.  This means food is fresh, and menus adapt with the seasons to keep dishes crisp and new!

What's the restaurant motto?: Communal is part of the Heirloom Restaurant group so they also go by the theme "Eat Well," however, a restaurant motto is in the making. Stay tuned.

What is your specialty item and tell us about it: A special at Communal is Pork--some say it's the best in the state. At Communal, the chefs work with the entire pig.  They never get frozen portions shipped to them or work with pieces pre-butchered.  This is important because they get to use everything and specially design the pig for the restaurant. You won't get that at very many places! On nights with specialties, the chef works with the portions of the pig that he has left and chooses, to put together a masterpiece meal.

Top ordered items?: anything Pork, Hang Steak (this is the butcher's tenderloin, typically the butcher saves this small portion for himself!), Fall Mushroom Toast, Roasted Brussel Sprouts, Butterscotch Pudding, Verona Chocolate Lava Cake, Salted Caramel Ice Cream.

Names of the food?  Menu items are named after the farmers or location of where the product came from. For example, Koosharem Valley, La Nay Ferme, Allred's, Mary's Farm, etc.

Do you ever do special event menus? Absolutely! Specialty dinners are often put together for New Years, other holidays, or special events.  Sauces and greens typically stay the same but a regional crab, rabbit, or special offering will be added.

Are you involved in the community?  Yes, Local 1st Utah organization, Downtown Provo Inc., and we work with Station 22 for Downtown Mixers and special events.

What other restaurants are involved in the Heirloom Group?  Heirloom is a very prestigious and growing group to be a part of.  Others in the area include: Mountain West Burrito, Vivint, & Ancestry.com. This group is special because the owners don't just own the company, they are right there with you cooking.  They are all about food on the plate, not money in the bank, which is why they are so successful.

How has the restaurant evolved? It started out super fancy: white linens and about a2 1/2-3 hours dining experience. Now, it is much more simple and family-styled, with dining times ranging from anywhere between 1/2 hour and 4 hours (based on how long you would like; they can get you in & out so you can make it to your movie, or could dine with you for however long you'd like).

Please, please try the butterscotch pudding dessert for us when you go dine with them! We can honestly say it was to die for. The thick, yet smooth, caramel and butterscotch taste paired perfectly with the chocolate crisp and whipped-cream has got us hooked. Nothing is more perfect than that combination!