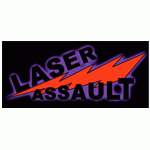 School is winding down and almost out for the season! Can you believe it? We sure can't. Don't let the stress starting setting in about how you're going to keep the kids entertained in this cold season.  Laser Assault has got you covered as they just posted a buy one, get one free laser session for up to 4 people on our site. 
Snag the coupon here
:
http://bit.ly/QvHGfD
. Also, they posted another great deal for a 30 minute laser session and mini golf for just $10.
You're going to need these!