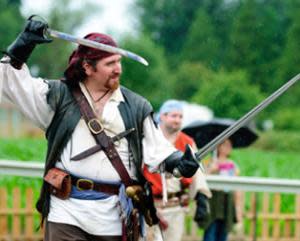 Well, here we are on September 19th and we're pleased to wish you a happy National Pirates Day! Arrrrg matey, we hope you are getting your "A Hoys!" in.
Aside from Pirates Day, there is another exciting event coming this week...The Utah Valley Renaissance Faire at the Timpanogos Park! For those unfamiliar to this event, you're going to love it. We encourage checking out their website to get full details on everything going on but here is a quick glimpse detailing what this is all about:
The event features three entertainment stages and a puppet theater where local musicians and actors will share their talents. An artisan village will also display some of the medieval arts and trade guides. To give you a taste of the offerings, we thought we would share with you a short list of some of the entertainers:
Kirkmount- Alex and Sam Bigney
Idlewilde/Glastobury- Dave and Carole Sharp
An Rogaire Dubh
Grassroots Shakespeare
Desert Gypsy Dance Co.
Mike Hamilton- Magic with a Message
Baroque Guitar Quartet
Ogden High School Celtic Band
Tricia Storey
Jugglenutz-Mark Nelson and Brent Jensen
The Harp Circle
Cathy Clayton- Harpist
Utah-Captain Jack Sparrow
The House of Tudor
Irish Celtic Musicians
Martha Sargent and Recorders
Elias Caress
Dallin Blankenship-Puppeteer
Gael Shults- Hammer Dulcimer
Harp Irish Dance Company
A Knight for a Day/TrueEdgeAcademy
Josh Brothers
 and MORE!
Here's the low down of the information you need to know about the event: 
September 21 - 22, 2012
(Friday & Saturday) Timpanogos Park
(Highway 189, Provo, UT 84604)
Phone in at 801-361-1945
/Starts at 10:00am
$10 adults, $8 students and seniors, under 12 $6, under 6 free.
Additional information at
Utah Valley Renaissance Faire
or
Utah Valley Events
.