We are excited to announce that Unhinged has opened in downtown Provo. The store owner, Corey, has so kindly decided to giveaway a hat of your choice to one lucky winner! All you have to do is comment below with your name and email address and a random winner will be selected on Friday, July 26, 2013 at 12:01PM. Here are a few super cute hats you have to choose from...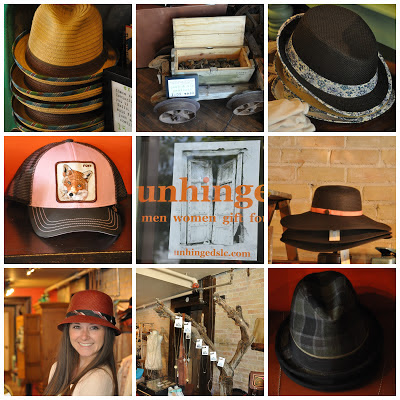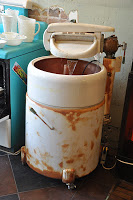 Located on Center Street in Downtown Provo,
Unhinged
has joined the downtown family. And let me tell you, this is a store you will love to visit over and over again. As soon as we walked in we were in awe over
all of the
old furniture and appliances that have been placed in the store. The exposed brick, artistic wood doors, and copper trophies are just a few things that give this store such a unique feel. You can even find the original lights from when the restaurant before it first opened. When you walk in you'll see an old washing machine that has been converted into a water feature. It's the small things like that, that makes this store so unique.
Besides all of the awesome old appliances and furniture, Unhinged is a fabulous clothing store. Corey says the store is a mix of new and vintage and that is something you can see all throughout the store. You can find accessories hanging off of a tree limb and shirts resting in an old oven. They feature modern clothing, gifts, and accessories for both men and women.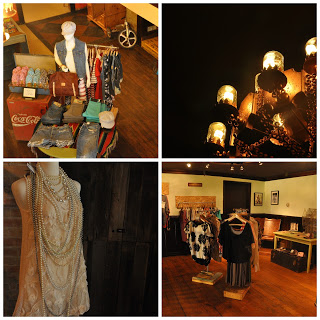 The best part of the store, everything you see is for sale! Corey explained how he doesn't like walking into a store and seeing something you want and then having the owner tell you it isn't for sale. Whether you are shopping to add to your closet or are a collector looking to add to your collection, if you see something you want it's up for grabs. Fun fact: all the impressive antiques you see in the store Corey found himself or collectors gave to him.
One aspect that makes Unhinged so unique is its line of designers. A new local designer is featured each month in the store. There is an area upstairs that the designers clothes will be on display and available for purchase. Using local designers gives people the opportunity to wear unique clothes and brands that no one else has. Unhinged also has a store in Salt Lake and Corey works hard to carry brands in the Provo location that no one else has in Salt Lake. Corey is always looking for new designers to feature in his store. If you are interested you can contact him at
corey@unhinedslc.com
Unhinged is the perfect shop to find that unusual, one-of-a-kind gift. Walking through and exploring all the unique aspects of the store is an experience of its own...we didn't have the will power to leave we loved it so much! They will be having a Grand Opening party next month on Friday, August 16th.