Imagine the travel destination of your dreams— Iceland? France? Japan? Devin Graham has been there. Maybe your ideal spot is more off the beaten path. Saudi Arabia? Uzbekistan? Zambia? Devin's been there, too. Not only has he visited, but everything he does in these locations is worthy of its own movie—which is actually why he's there in the first place. You might not have heard of Devin Graham, but you've most likely heard of the YouTuber and viral-hitmaker Devin Super Tramp. If that doesn't ring a bell, it's still likely that you've seen some of his work—his YouTube page boasts over 1.4 billion views (that's billion with a "B"). He's also got over 120 thousand followers on Twitter, 548 thousand on Instagram, and 3.7 million on Facebook. What you may not know is that Devin got his start making videos here in Utah Valley and that it's still one of his favorite places on Earth.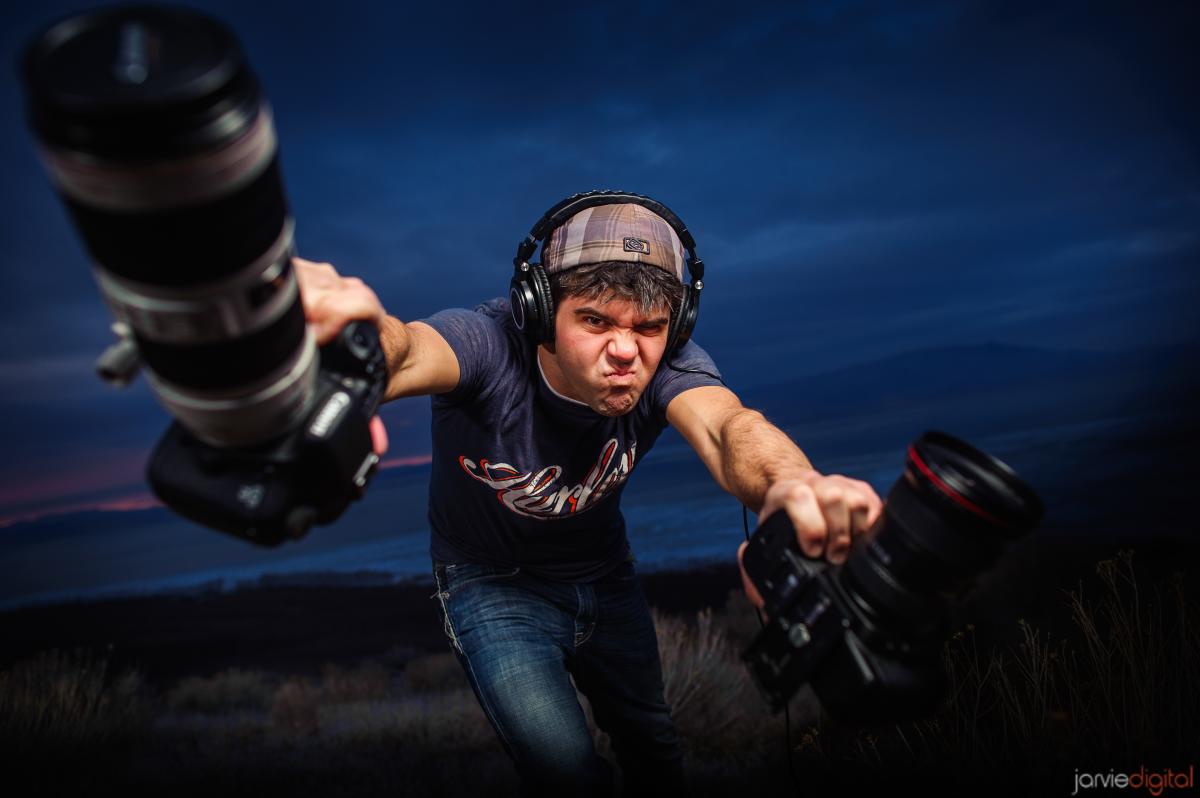 Devin travels the world exploring and adventuring, looking for unique places to film and unique things to do at those places. He's worked on feature films and done projects with the likes of Nintendo and Warner Brothers. Even with everything he's seen and done, he says he's obsessed with Utah Valley and everything it has to offer. He and his team have partnered with Explore Utah Valley to pay homage to our corner of the state and highlight some of what makes it such a special place. Take a look at six of their picks for the best things to do in Utah Valley.
Devin was born in Provo and attended Brigham Young University. While there, he was surrounded by inspiration with venues like Provo Canyon, Utah Lake and Thanksgiving Point, just a quick car ride away. Devin told us, "Thanksgiving Point is one of my all-time favorite places." He loves the seasonal events like the Tulip Festival, Cornbellies and the lights at Christmas time. The variety offered within this area has provided so many opportunities for content and recreation, with the golf course and Dinosaur Museum being consistent favorites.
2. Provo Canyon
Provo Canyon is particularly special to Devin, with the fall leaves being something he plans his whole year around. He mentioned to us that this change is one of the most beautiful sights in the world—and he's been all over the world. He even makes sure to avoid travel in October specifically so he won't miss the colors in transition. Imagine regularly visiting and capturing the most diverse landscapes and geographies on the planet and still favoring the sights that are mere minutes away for so many Utahns! Not only that, but everything else to enjoy within the canyon, like the Provo River and Bridal Veil falls, keeps him and his team coming back for more.
Sundance Resort is also up Provo Canyon and boasts some of Utah Valley's favorite activities and events. It's a ski resort in Utah, so you know that you're in for perfect snow and breathtaking scenery. The skiing and snowboarding are world-class, and that's only part of what can be enjoyed. Snowshoeing is also popular during the winter, and when there isn't snow, Sundance hosts gatherings and events of all sorts. Devin loves the variety found even in this one place, "Each time the season changes, there's new activities that come with it." One of the more popular activities takes place from June to October. The Full Moon Lift Ride is where guests can enjoy the full moon and night sky while riding up the mountain in the comfort of a lift chair. No matter what season or what you prefer, Sundance has something for everyone.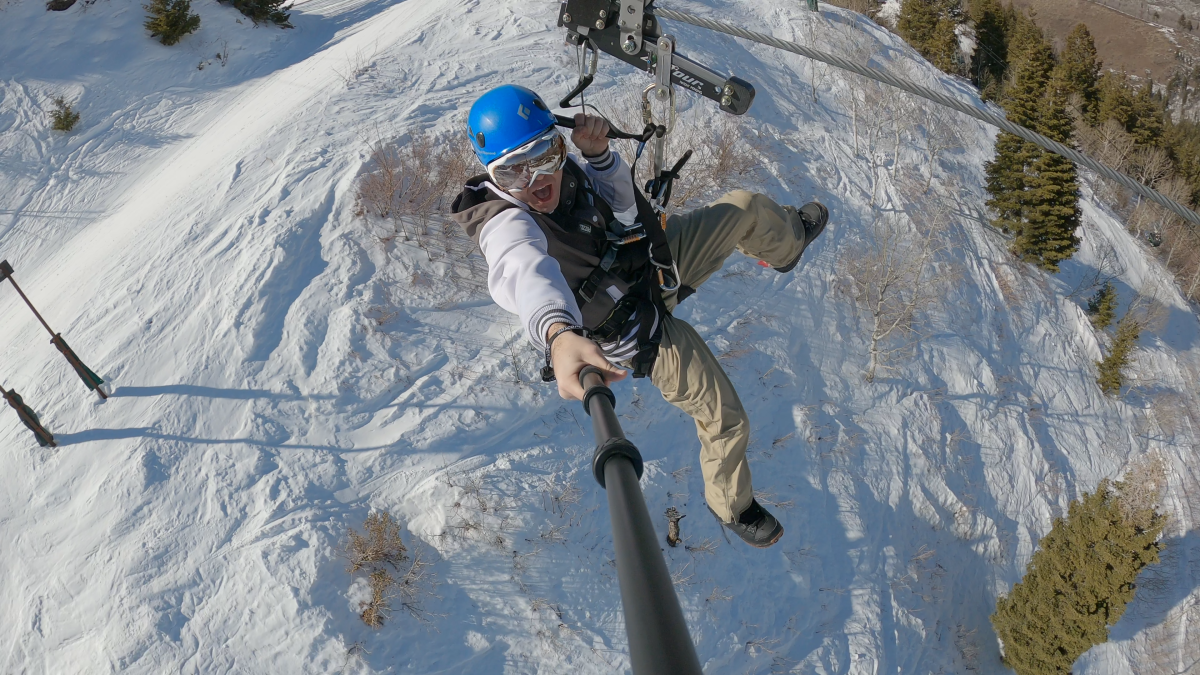 4. Utah Lake
One of Team Super Tramp's best-kept secrets (that they willingly shared with us) is Utah Lake. They love how accessible it is and how little traffic they encounter when they're out filming on it or near it. Devin describes how clear and glassy the water will get and how that lends itself so well to the events and activities that they love to capture. There are beautiful beaches and gorgeous views all around, so much so that some viewers can't believe that the videos filmed there are actually in Utah.
5. Krishna Temple, Festival of Colors
Another of Devin's favorites, the Festival of Colors could be described as "unmissable." This event takes place every year at the Krishna Temple in Spanish Fork. The Festival of Colors is a celebration of India's Holi, which highlights the coming of spring after winter, a time for transition, forgiveness and fresh starts. Participants splash vibrant colored chalk powder in the air and at each other, and the sight is like nothing else.  Devin calls the festival "pure magic" and "a photographer's dream." It draws diverse crowds and is one of Utah Valley's most memorable and popular events. It also happens to be the largest Holi festival outside of India itself.
One of Utah Valley's newest attractions is Evermore Park. Evermore is an experience park where guests can step into a fantasy world and live out magical scenarios and events. Modeled after an old European village, visitors are fully immersed and can participate in quests, role-playing, and character interaction. Devin says it's "like stepping into Lord of the Rings or Game of Thrones." Activities include ax throwing, archery, simulated combat, bird and reptile shows and so much more. It's an otherworldly experience guaranteed to please anyone with an adventurous or imaginative spirit.
While these are all some of Devin and Team Super Tramp's favorite places and things to do in Utah Valley, they also talk about the joy of exploring and how there's always something new to find, even in your own backyard. Come and see what Utah Valley has to offer, then maybe forge your own trail through our terrain and see what hidden gems you might find. All of this and more are waiting for you to enjoy.