Shakespeare, brings to mind something for sophisticated, high-minded English lovers. Or it brings to mind agonizing memories of reading Romeo and Juliet in high school. Whatever Shakespeare brings to mind to you, we can mostly agree that it is something not easily accessible to the masses.
Shakespeare was originally intended to be acted out in a way that is interactive with the audience it is portrayed to. That is exactly what the Grassroots Shakespeare Company does, and it is truly a memorable and remarkable experience.
In the days of Shakespeare, there was no director and little to no practice on the part of the actors. Just a cue based script which the actors make their own. The actors provided their own costumes and props with what they had. Best of all, the audience is extremely involved and is an essential part of the show.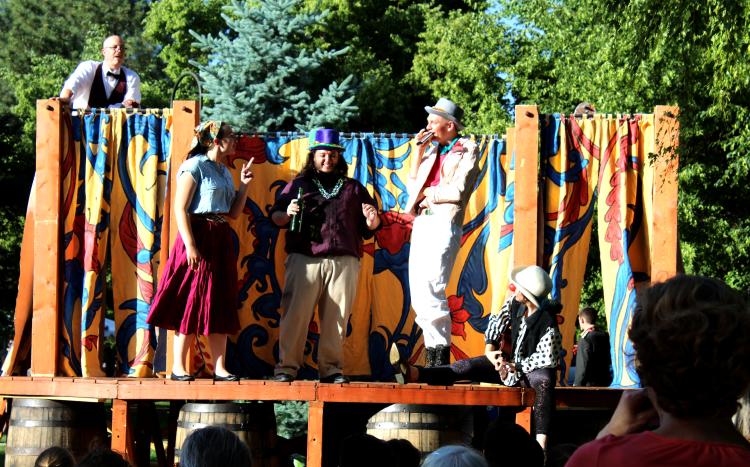 Grassroots Shakespeare Co. mimics this brilliantly. They have a portable stage that they set up in parks throughout Utah and Salt Lake counties. There is no director and limited rehearsal time (less than 40 hours during the whole summer). Actors choose their costumes based on their interpretation of their character, like Shakespeare's day.

What really separates Grassroots Shakespeare from other Shakespeare productions, is the elimination of the fourth wall, the imaginary wall that separates the actors from the audience. This means that the actors are not playing in their own little world; they are actively interacting with the audience.
By eliminating this fourth wall, Grassroots Shakespeare tears down the intellectual, high minded barrier. By doing so, this gives kids and adults alike the ability to understand and enjoy Shakespeare.
This weekend there is an opportunity to see all the shows Grassroots Shakespeare has been doing all summer at their triple header event. It will be a night of jovial fun and interaction as they showcase "Julius Caesar," "Antony & Cleopatra," and "Twelfth Night." This event will take place Friday and Saturday evening at the Castle Amphitheater in Orem, starting at 8:00PM.