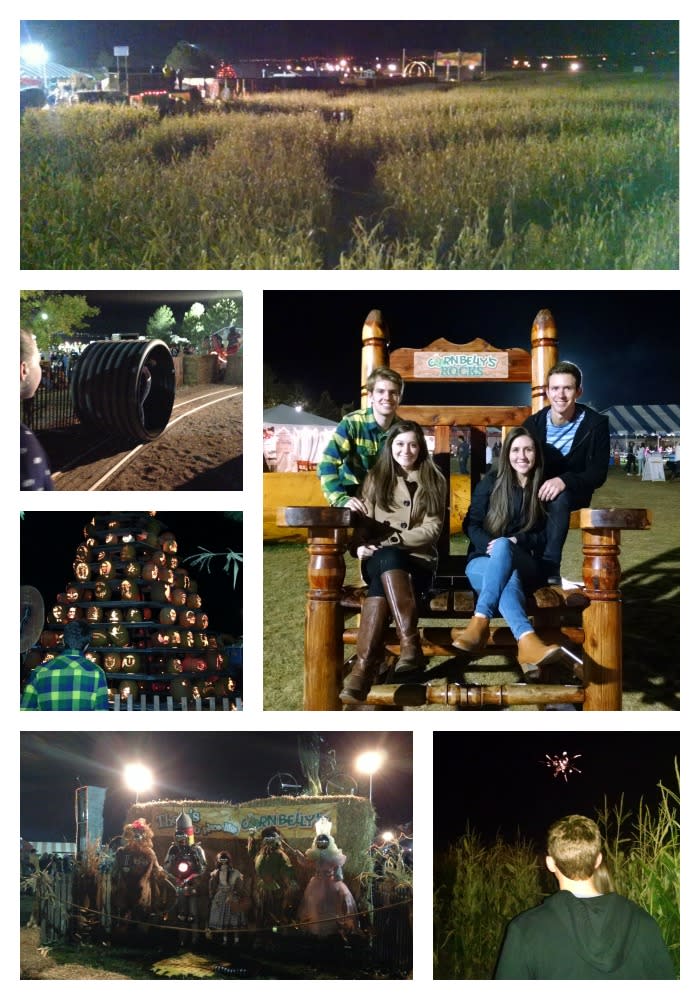 Last weekend I went to Cornbelly's for the first time. It's hard to believe that I've lived in Utah Valley for almost 7 years and I never made a trip to Cornbelly's. I have been missing out! It's the cool thing to do in the fall, I mean everyone floods my Instagram and Facebook feed with their Cornbelly's rocking chair picture (you better take one when you go btw) every year so I know it's the place to go. 
Once we got in I couldn't believe everything there was to do. There was literally something there for everyone. As soon as we walked in I saw the Hampster Roll and knew I wanted to challenge my husband. But first things first, I saw a 'free fudge' sign and we had to stop. Priorities.
Hampster Roll was a fail on my part and although there is evidence of me falling down inside, that won't be shared with you.
Pig Races, a giant pumpkin tree (put my carving skills to shame), pumpkin bowling, hay rides, pumpkin sack slide, cornhole, paintball...anything that's fall or fun related, they had.
This year's corn maze theme is the Wizard of Oz. We decided to take the 25 minute route and ended up making it into a 45 minute adventure. I'm sure you guys are much better at mazes than we were! They have clues and signs to help direct you through the maze; we chose to ignore them...obviously would have been helpful to us!
There is also a haunted section for those up for a good fright. But don't worry parents, that is in a completely separate section and the kiddos won't get scared. I'm a whimp and didn't dare venture inside one of those haunted houses. Warning for those crazies who love to get scared, the line is usually about 45 minutes long. Dress warm and be prepared to wait!
Next weekend Cornbelly's is having a Halloween Smash & Bash. They'll be celebrating Halloween day and night in a BIG way! There will be pumpkin smashing, a costume contest, pumpkin pie eating contest, dance party, and much more! There will even be extreme tick-or-treating...sounds awesome!