In the shadow of the great Mount Timpanogos, voices echo across the valley. They call out tales of triumph, tales of discovery, and tales of love. Some of the nation's best known storytellers unite with other tellers, both young and old, for celebrations of music and merriment, but mostly stories. Forty thousand listeners of all ages gather to hear the echoing fables and cannot help but to become a bit wiser, a bit more human.
This year we are giving away a Kindle Fire to one lucky winner! There are two easy ways to enter. Follow this
link
to submit your name and email or follow the same
link
and enter on our
Facebook page
.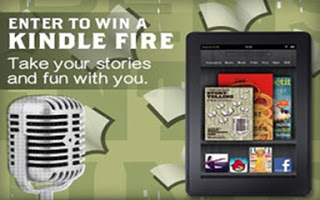 A winner will be announced via email on Thursday, August 1st. Hurry and enter before the contest ends!
Join us in 2013 for the 24th anniversary of the Timpanogos Storytelling Festival and the largest storytelling festival in the West. The excitement spans three days, with a variety of workshops and entertainment each day. The festival will take place August 29-31 at Mount Timpanogos Park. For more event details please visit our
site.