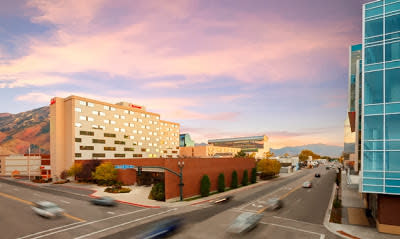 It's the longest-running science fiction and fantasy symposium in the state of Utah.  Now in its 32nd year, it has grown into a must-attend writers conference for anyone who wants to learn more about the craft.  And you don't have to write just science fiction and fantasy.  Writers and would-be writers from many genres come for the panels, presentations and workshops on writing and world building.
But LTUE is so much more than just a writing conference!  There will be panels on art, media, filmmaking and literature.  There will also be a room for RPG and CCG games.  There's even a celebrity Magic tournament! (Additional fee for Magic tournament.)
On Friday night there will be a mass autograph signing for most of our authors (look on the website for a list).  This event is open to the public.
Orson Scott Card (Award-winning author of Ender's Game and many other books)
Anne Sowards (editor for ACE)
Brandon Sanderson (Toastmaster)
(Check the website for more)
If you register before January 31, 2014 the cost is only $30/person.
There will be a banquet on Saturday, February 15th.  The Toastmaster will be Brandon Sanderson.  Tickets are $30/person.  You don't need to attend LTUE to attend the banquet.
Where do I get more information?
Go to

 

ltue.net

 

for all information on LTUE.
Don't miss out on this year's event!