I feel like Colby and I haven't blogged in a while. I'm so sorry. But we have cooked up quite the treat for you this month! All of our dates have a "haunted" theme to them. We discovered some crazy things you can do here in Utah Valley for Halloween that we had never heard of. And when I say crazy, I really mean it; just you wait for all these blog posts this month!
This week we discovered an activity that if you can't find a babysitter for your kids, they can come too. We heard about
CLAS Ropes Halloween Adventure Cruise
and thought we'd go check it out. I'd also like to throw out that all the couples that were "too busy" to come really missed out! Colby and I had so much fun.
CLAS Ropes is located on Center Street in Provo down by Utah Lake. When you arrive, they have a Halloween movie playing while you wait for your group to be called, along with concessions for purchase. 
I didn't know this, but the river you float down is actually the Provo river. CLAS Ropes has decorated the river banks with over 100 hand-carved pumpkins that reflect off of the water. Not to mention all the amazing light work they did along the river. This truly is a unique boat adventure. Your captain shares scary stories and songs and a pirate even comes to attack your ship. Luckily, the pirate is a pretty nice guy, and brings candy with him to share :)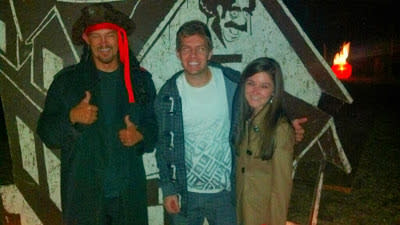 Best captain ever