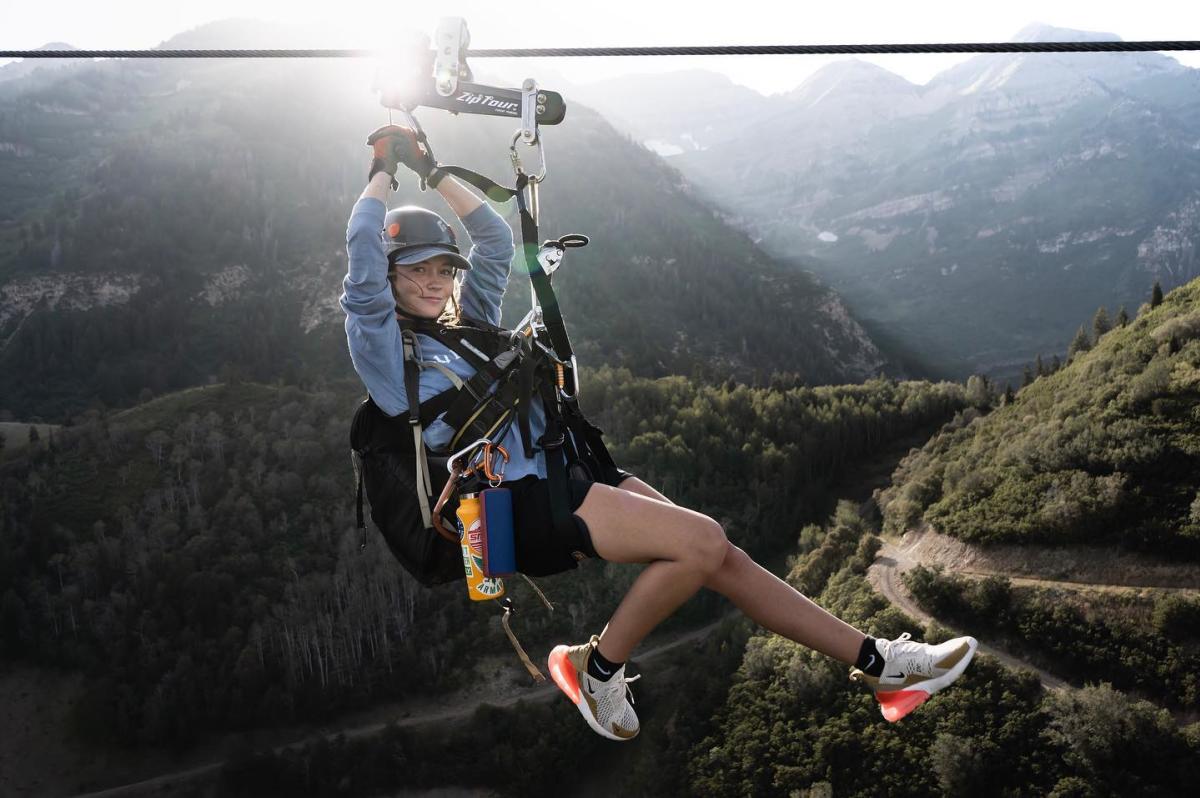 I consider myself a pretty adventurous person. I enjoy trying new things. Climbing up tall buildings, jumping off 20 foot docks, zip lining; you name it, I'll probably try it. I mean you only live once right? Or at least that's what the rapper Drake says. So when Colby told me we were going kayaking you would think I would be super excited. Correct answer: no.

The usual reaction when he tells me what we're doing consists of me jumping up and down, clapping my hands, and probably making some weird noise. Yes, I react like a kid whose parents just told them they were going to DisneyWorld. This time when he said we were going kayaking my eyes got big and I said, "Oh okay. I'll go." Not the usual reaction. He knew right away I wasn't excited and I made up some lame excuse as to why I wasn't over the top giddy. Truth was I was scared out of my mind! Colby kept talking about rough waters and flipping over in the kayak. And seeing as I've never been kayaking, that did not sound like fun. AT ALL. I thought for sure I would end up in the hospital or end up dead.

The plan was to double with his roommate, who we'll call D, whose family let us borrow their inflatable kayaks. Well when it was time to go D was no where to be found. To my excitement this meant we didn't have to go kayaking! A couple hours later Colby called saying D showed up and they were leaving in an hour. At this point I was laying out by the pool so why would I want to leave (pool + sun = my best friends). When I heard D found a date, who we'll call M, I was a little more comfortable with the idea of going. If another girl could do it, so could I!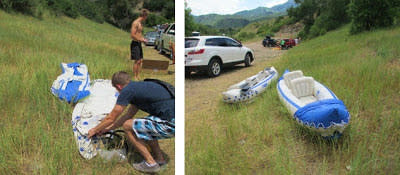 Before and after inflating the kayaks
We drove two cars and parked the first one at Vivian Park which is where our adventure would end. Vivian Park is located about 6 miles up the Provo Canyon. We drove the other car to a place just below Deer Creek Dam. When driving up the canyon, you will see a paved road that heads off from the highway on the right just below the dam. Here you can park and easily access the river. This is also where everyone else is getting in the river so you can't miss it.
With no direction on how to paddle from the boys, we headed towards the river. Getting in the river was a little tricky because we were trying to avoid big rocks...a downside to having an inflatable kayak. But once we started going it wasn't bad at all. That's right, it wasn't hard! The ride starts off kind of slow which is perfect to practice your steering.

Riding down the river was such an amazing experience. At some points the river was so calm I wouldn't paddle and just soaked in the gorgeous scenery. The banks hid the sights and sounds of the busy highway. The river alternates between slow peaceful bends and some exciting rapids...nothing too crazy though. I mean I did survive to write this story.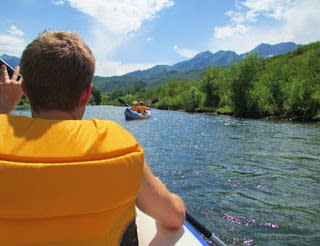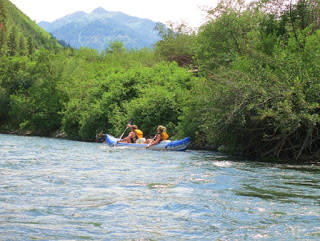 D & M seemed to find themselves in the bushes a lot
Now had a girl told me about kayaking down the Provo river and how much fun she had, there's no way I would have been so nervous. There's something about knowing if another girl like me can do it, then so can I. Is anyone else like that? Why is that? I would have been so much more excited and confident if I knew exactly what to expect and heard it from another woman.
Our ride came to an end when we reached Vivian park. There's a bridge that you do not want to go past. When you've reached the end, make sure you get off on the left because on your right is a private park, which is where we got off and got in trouble. Oops!
No permits are required to ride the river, but life jackets are. We rented ours from BYU Outdoors Unlimited. It was only $5 per life jacket. As for attire, I recommend wearing your swimsuit, flip flops, and sunscreen. Again, something only a girl would care about knowing which is why I'm mentioning it.
If you don't have access to inflatable kayaks you can rent some from High Country Rafting. They even offer guided river tours.
The Provo river is perfect for beginner kayakers, such as myself. The ride only took us about 75 minutes. You don't need any experience to make this a fun trip. Kayaking was way more fun than I ever thought it would be and for all you ladies reading this, if I could do it, anyone could do it. 
Once again I have to give Colby credit for coming up with another super fun date. He never lets me down! We want to hear your ideas...what should we do next?