Recently at the CVB, we've been thinking about ways to revamp our blog and have been listening to your requests and ideas on what you would like to see on here. With that said, we have decided to add a dating segment to our blog! We would never want to give you ideas that aren't good, so I have volunteered me and my boyfriend to try them out.
Every week we will go on a themed date of sorts; some ideas that we come up with and others that are submitted to us. All of which will take place somewhere in Utah Valley. Before committing to this assignment, we were talking about how much there is to do in Utah Valley and how sometimes couples get stuck trying to figure out something fun and new to do. We have made it our mission to create original and fun date nights that couples of all ages will enjoy.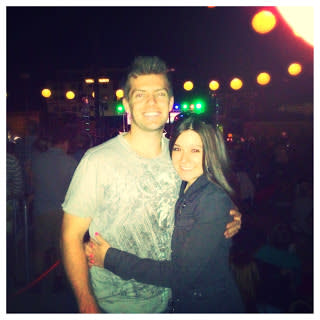 I think it's best to start this dating segment with a little introduction. I have been dating my boyfriend, Colby, for four months now. Engaged? No. Thanks for asking. We both graduated from BYU and are working full-time here in Utah Valley. Colby graduated in Marketing and I graduated in Advertising. Yes they go hand-in-hand, but I like to say Advertising is way more fun! Some of our favorite things to do include cooking for each other, wearing matching outfits (never on purpose), going on adventures, and playing glow-in-the-dark bocce ball (it exists…buy a set online. You won't regret it).
I have to admit, it's a little daunting exposing our dating life to the world, but the challenge is something we can't wait to take on and I'm so happy Colby is on board! The boyfriend is already super creative with our dates and with this assignment at hand, I cannot wait to see what he comes up with.
So you're probably wondering at this point what is going on with the title of this post. It is actually a quote from the movie, Brave, which segments into our first Utah Valley date night. Using Brave as our inspiration we had Scottish night. Now not everything about this night was 'technically' Scottish so please don't fault us.
Our first part of the date was archery. We had no idea you could take archery lessons. I was a little hesitant at first thinking I would make a fool of myself, but I ended up having a blast and turns out we weren't that bad. We traveled to
Jake's Archery
in Orem for our indoor shooting adventure. Jake's was great because you could rent equipment if you don't have your own, which for most of you I'm guessing you don't, and they give you lessons. It only cost $10/person for an hour of shooting and for rental equipment. Not a bad deal! Side note, make sure you wear closed toe shoes. You never know where those arrows might end up…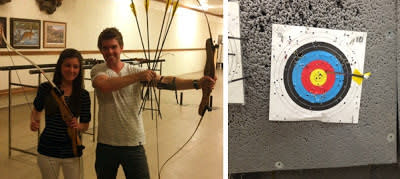 Part two of our date was making crepes. Okay, Colby made crepes because I'm crepe incompetent. This is where the Scottish theme gets a little iffy, but we made them green if that counts for anything. With all of our favorite toppings piled on to our crepe, we sat down and watched Brave. Earlier we stopped by Redbox to pick it up and in case you didn't know, there is a whole list of
free codes
you can use at Redbox to make date night just a little bit cheaper. I'm all about saving where you can!
Utah Valley date night #1 was a success! I'm excited to see what he comes up with next. And we would LOVE to hear from you!! Remember the best date of your life? What was the coolest thing you did in Utah Valley? We want to hear about it! Comment below and give us some ideas of what we should do next and it might be featured on the blog!