I'm just going to throw this out there, I love food. I love trying new food. I love sampling (nothing beats Saturday's at Costco). Put all of those things together and you get the best Saturday afternoon imaginable.
The Utah Valley Chamber of Commerce is hosting its
22nd Annual Taste of the Valley
. Restaurants from across Utah Valley participate in this event that takes place in downtown Provo. The Taste is an opportunity for locals and visitors to sample food from different restaurants in the area and Utah Valley gets to showcase their diverse culinary scene.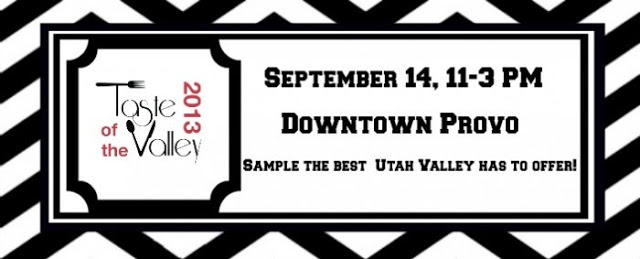 For $10 a person or $40 for up to six people, visitors get to taste food from every booth. What a deal! You get to try a little bit of everything that Utah Valley has to offer.
You will also have the opportunity to vote for different restaurants in the following categories:
Best Taste in the Valley
Best Presentation
Best Hospitality
Most Unique
Best Kept Secret
Enjoy live bands and a bounce house for the kids too! The event will be held this Saturday, September 14 from 11-3 PM in downtown Provo. You can purchase your tickets
here
 or call the Chamber at 801-851-2555. 
Bring your appetite and we'll see you there!