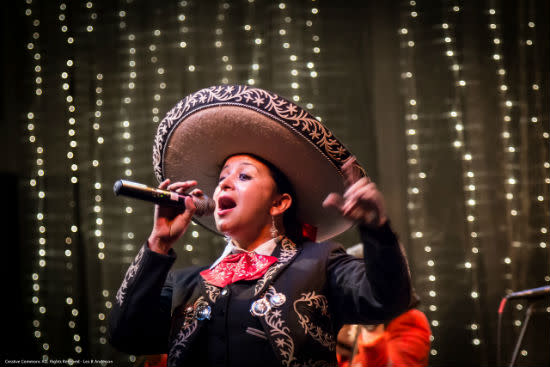 PROVO, UT: The Covey Center is pleased to welcome Utah's most recognized mariachi singer, Yunuen Carrillo, for a night of traditional songs and dances of Mexico on Monday, November 30 at 7:30pm. She will be joined onstage by the musicians of Mariachi Alma de Mexico as well as the dancers of Ballet Viva el Folklore.  This is our third concert presented in partnership with Excellence in the Community, and admission is FREE to the public.

Yunuen Carrillo is among the top ten mariachi singers around the world according to "La Reina del Mariachi" contest. She has performed in one of the most important cultural centers in Mexico, El Palacio de Bellas Artes (Palace of Fine Arts), as well as many states across Mexico. Her talent as a singer, charisma, and hard work have led her to participate in the most important events in the Latin community around the state, such as Fiesta Latinoamericana (Provo), Celebración de Cinco de Mayo (Telemundo), Celebración de la Navidad Internacional (West Valley City), Celebración de la Independencia de México (Salt Lake City Fair Grounds), Luz de las Naciones (LDS Conference Center), Dia de Los Muertos (Thanksgiving Point), and the Old Capitol Art Festival (Fillmore) among others.
As a successful full-time performer, Carrillo loves bringing this beautiful culture to the private and public sector. Come partake in the joy and romanticism of her amazing voice, as she performs with the beautiful music of Mariachi Alma de Mexico and the colorful dance of Ballet Viva el Folklore.

Excellence in the Community grew out of Jeff Whiteley's experiences as a street musician in Paris. Founded in 2005, Excellence in the Community is a nonprofit organization based on the premise that Utah's best musicians and dancers represent a powerful resource for bringing people together and enhancing communities. Since their first event in 2005 they have presented over 300 concerts. Since moving to the Gallivan Center in December 2011, all of their concerts have been offered free to the public. Recently, concerts were extended to Utah Valley through the Covey Center for the Arts. With a focus on quality musicianship and a great diversity of musical styles, their concerts appeal to a broad range of age groups, including families with young children. To learn more about Excellence in the Community and view their full line-up, visit www.excellenceconcerts.org. 
***********
What is the Covey Center? The Covey Center for the Arts exists to allow its founders and supporters the opportunity to enrich the lives of our community and endow all that is good in the arts for generations to come. The Covey takes great pride in providing valuable educational and creative development opportunities for youth and families alike and features first class entertainment and art exhibits appropriate for all ages.
MORE ON THE COVEY CENTER FOR THE ARTS
THE COVEY CENTER FOR THE ARTS is conveniently located in the heart of Provo at 425 W Center Street, Provo, UT 84601. Constructed in 2007, this 42,000 sq. foot premiere performance rental facility features:
A 670-seat performance hall with theatre and balcony seating
Three dance studios furnished with a piano, ballet bars, and walled mirrors
A 100-seat black box theater
Three art galleries
A state-of-the-art sound system
Full theatrical lighting with a 75-ft. theatrical fly
Two backstage green rooms with make-up mirrors and;
A full orchestra pit
In addition to serving the community as a premier venue for local performers and artists, The Covey Center for the Arts regularly attracts and features internationally known acts such as America, Kenny Loggins, George Winston, Stomp, David Lanz, Michael Ballam, The Beach Boys, Ryan Shupe, The Oak Ridge Boys, Kurt Bestor, Styx, and Foreigner.