The latest musical collaboration between local playwrights Chase Ramsey and David Paul Smith offers a twist on the children's tale of a tortoise and a hare as SCERA presents the world premiere 50-minute musical on Feb. 4,8,11,15,18 and 22 @ 7:00pm at SCERA Center for the Arts.
In this, their fourth collaboration, the duo places the focus on friendship, honesty and cooperation instead of fable's typical depiction of fierce competition and rivalry in their charming "The Untold Story of the Tortoise and the Hare."
Elementary schools throughout the valley will attend morning matinees, which are sold out.  Tickets for the six public evening shows are $6 for adults and $4 for children 3-11 and seniors 65 and older. They are available at scera.org, by calling 801-225-ARTS, in person at the main office at SCERA Center, 745 South State, Orem, open 10am-6pm weekdays and Saturdays from 12noon-6pm.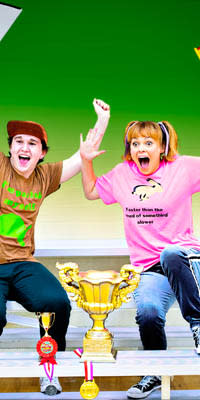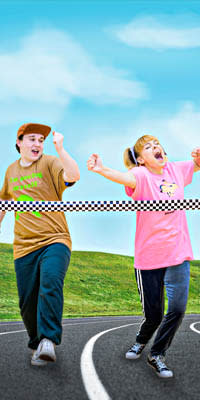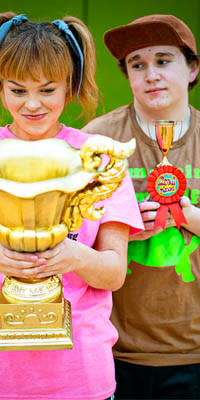 The lively production is designed to maintain a child's attention and interest span, which has worked well in previous collaborations says Smith, who writes the music and lyrics and often creates the choreography.  
"In addition to having the children in the top of our minds, Chase and I usually have some lessons that are takeaways from the show," Smith explains. "In the past, the two of us have directed the production, but Chase is acting in a show on Broadway, so we've brought in very talented DeLayne Dayton to co-direct."
Smith describes the musical score as fun and upbeat, with electronic-type dance music and a contemporary pop musical feel reminiscent of the energy in the movie "High School Musical." With a bit of hip hop and some cool concert lighting in the mix, Smith and Ramsey's unique focus on message and audience interaction will bring out the inner champion and cheerleader in kids and adults alike.
As the play opens, we meet the Tortoise and Hare families. They are the only participants in an annual competition proclaimed the biggest race in animal history. Other animals decline to compete because the Hare clan is so superior at running, they crush the competition. The Hares also treat the race as a way to show they are superior to everyone else in town. The Tortoise family, however, never expects to win, but enters simply to join the camaraderie of the event.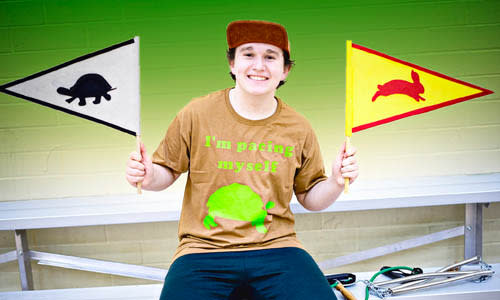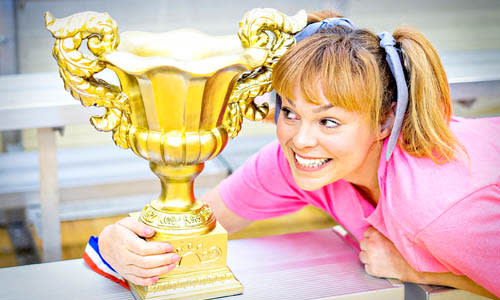 The stars of the show are Frankie Tortoise and Jackie Hare. Frankie looks up to and admires his "rival." Jackie's parents have emphasized the value of winning and have pushed their daughter so hard, she is exhausted and falls asleep during the race. Frankie could have easily slipped past her and been the victor, but he realizes everything is not about winning. What really matters are your friends and whom you put in front of yourself, Smith adds.
"Frankie decides to wake Jackie and let her finish the race she has prepared for, and she is so touched by his gesture, she runs alongside of him, so they can cross the finish line together," Smith explains. As they end the race, Jackie gives Frankie a push so that he emerges victorious. She then has to convince her unhappy and disappointed father that there are more important things than winning and more important things than this particular race.
The story resonates with Smith. "I was a big basketball player, and I got similar feelings about winning from my family and peers. I remember having a hard time, because what I loved most was the camaraderie. I actually quit basketball and turned to theatre because of its collaborative nature."
In Theatre for Young Audiences productions, adults perform the roles and performances are great way for families to introduce their children to the magic of live theatre. This is a nine-person cast with Kelly Coombs as Jackie and Kevin Bigler as Frankie. Other players include Gentrey Jeppsen, Shawn Mortensen, Garrett Smit, Aaron Johnson, Heidi Spann, Ally Johnson and Michael Larson.
The production team also includes Shawn Mortensen as scenic designer; Deborah Bowman as costume designer; Chase Elison is lighting designer; Christy Norton is props designer; and Danielle Berry serves as stage manager.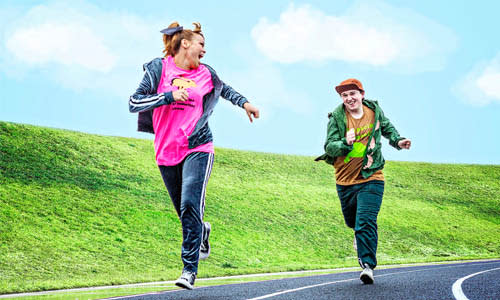 This marks the fourth time the duo of Smith and Ramsey have created a new work for the Theatre for Young Audiences program at SCERA, and they have become part of SCERA's library of original works. Other theatres may contact adam@scera.org about royalty rights to produce their shows, which also include "Little Red," "Alice in Wonderland," and "Peter Pan's Great Adventure."
APRIL BERLIN
Operations Manager/Marketing & Development
SCERA Center for the Arts