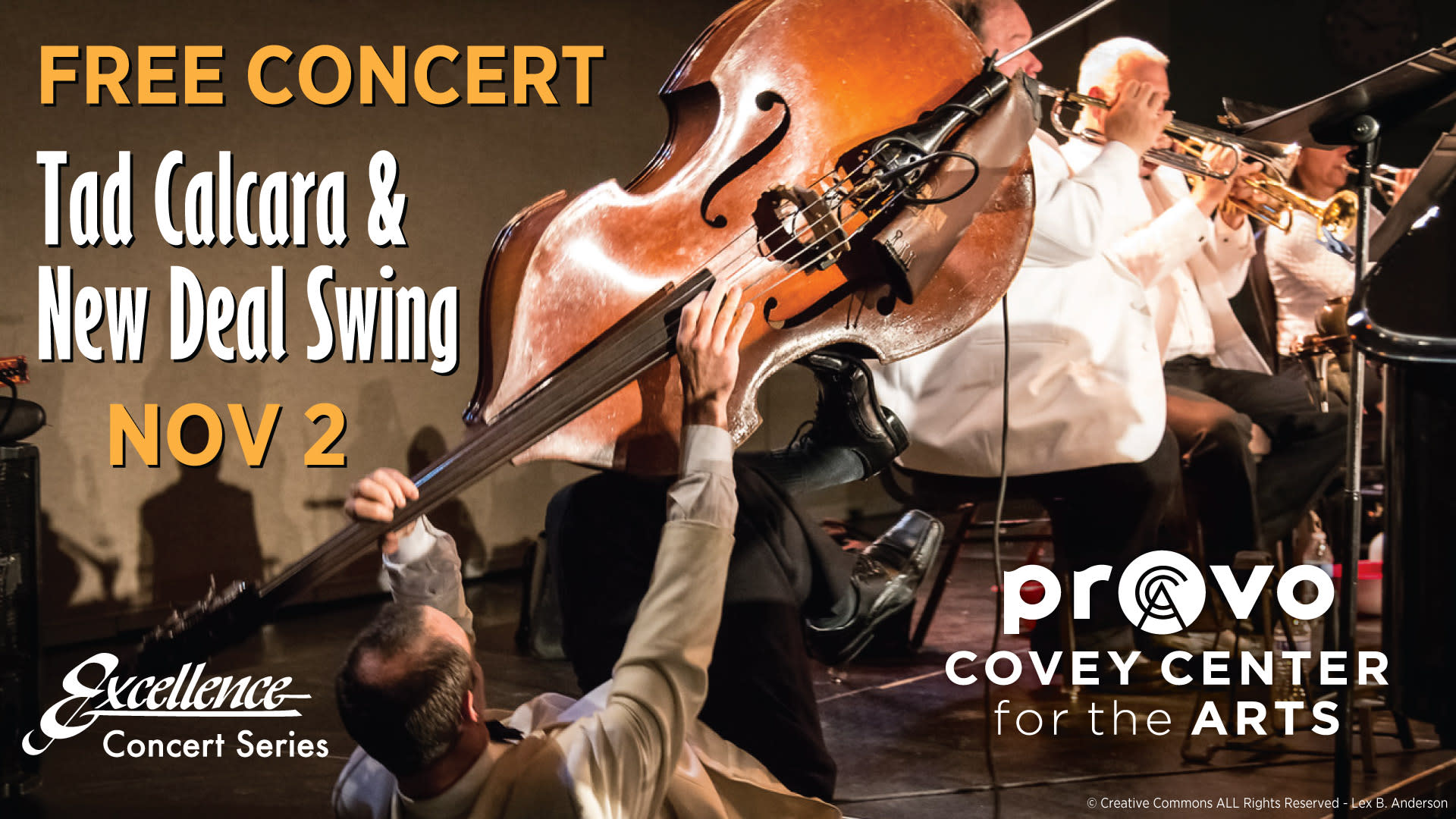 PROVO, UT: The Covey Center for the Arts, in conjunction with the Excellence in the Community Concert Series, will be holding another FREE concert on Monday, November 2 at 7:30pm. Tad Calcara and his 17-piece big band, New Deal Swing, will transport you through time! Based on 1940's big band tunes like Duke Ellington and Glen Miller, this performance pays tribute to the men and women whose sacrifices brought World War II to an end. The band will be joined by Melissa Pace Tanner on vocals, as well as dancers from Swingin' on Main. 
The New Deal Swing Band was established in 2003 by Utah Symphony principal clarinetist, Tad Calcara. The band performs the original arrangements made famous by the great Big Bands of the 1930s and 40s. Mr. Calcara has spent many hours researching archives to locate the original manuscripts that were used seventy years ago. Much of the band's repertoire plays like a sound track to 1930s New Deal America or to the struggle of 1940s WWII. Members of New Deal Swing have spent many meticulous hours rehearsing to obtain the right vintage feel, sound and most important swing of the original Big Bands. Visit www.newdealswing.com to learn more.  
Tad Calcara has been principal clarinet of the Utah Symphony since 1999. He began studying piano at age five and clarinet at 12. Mr. Calcara studied clarinet at the Manhattan School of Music, San Francisco Conservatory of Music, and the Cleveland Institute of Music. Prior to his appointment with the Utah Symphony he performed with the New World Symphony, Cleveland Orchestra, and the Grand Tetons Music Festival Orchestra. On several occasions Mr. Calcara has performed as soloist. When not performing with the Utah Symphony he can be heard playing chamber music in and around Salt Lake City, or leading his 16-piece New Deal Swing Big Band. His performances with New Deal Swing have included concerts with the Utah Symphony, Salt Lake Jazz Festival, and centennial tributes to Benny Goodman and Artie Shaw. He has also performed with Big Band legends Franz Jackson (former member of the Fletcher Henderson and Fats Waller bands) and the sole surviving member of the Duke Ellington Orchestra, vocalist Herb Jeffries.
Excellence in the Community grew out of Jeff Whiteley's experiences as a street musician in Paris. Founded in 2005, Excellence in the Community is a nonprofit organization based on the premise that Utah's best musicians and dancers represent a powerful resource for bringing people together and enhancing communities. Since their first event in 2005 they have presented over 300 concerts. Since moving to the Gallivan Center in December 2011, all of their concerts have been offered free to the public. Recently, concerts were extended to Utah Valley through the Covey Center for the Arts. With a focus on quality musicianship and a great diversity of musical styles, their concerts appeal to a broad range of age groups, including families with young children. To learn more about Excellence in the Community and view their full line-up, visit www.excellenceconcerts.org.  
What is the Covey Center? The Covey Center for the Arts exists to allow its founders and supporters the opportunity to enrich the lives of our community and endow all that is good in the arts for generations to come. The Covey takes great pride in providing valuable educational and creative development opportunities for youth and families alike and features first class entertainment and art exhibits appropriate for all ages.
MORE ON THE COVEY CENTER FOR THE ARTS
THE COVEY CENTER FOR THE ARTS is conveniently located in the heart of Provo at 425 W Center Street, Provo, UT 84601. Constructed in 2007, this 42,000 sq. foot premiere performance rental facility features:
• A 670-seat performance hall with theatre and balcony seating

• Three dance studios furnished with a piano, ballet bars, and walled mirrors

• A 100-seat black box theater

• Three art galleries

• A state-of-the-art sound system

• Full theatrical lighting with a 75-ft. theatrical fly

• Two backstage green rooms with make-up mirrors and;

• A full orchestra pit
In addition to serving the community as a premier venue for local performers and artists, The Covey Center for the Arts regularly attracts and features internationally known acts such as America, Kenny Loggins, George Winston, Stomp, David Lanz, Michael Ballam, The Beach Boys, Ryan Shupe, The Oak Ridge Boys, Kurt Bestor, Styx, and Foreigner.