(Orem, Utah) -- The best-known version of the classic fairy tale "Beauty and the Beast" may have been written by 18th century French author Jeanne-Marie Leprince de Beaumont, but Disney infused the "tale as old as time" with new life and wild popularity in 1991 and created a Golden Globe-winning best motion picture award.
The magic continued for the award-winning story when it premiered as a musical in 1991 (and again as a life-action film in 2017).
Veteran Utah director Jerry Elison, now 89 years old, believes audiences at SCERA Shell Outdoor Theatre will feel the same enchantment when the musical will be staged under the stars Aug. 2-17 at 8 p.m. Performances will run Mondays, Tuesdays, Thursdays, Fridays and Saturdays at the Shell, located at 600 South 400 East, in the middle of Orem's SCERA Park.
"This was one of the best auditions I have ever experienced," says Elison, a beloved thespian who has a theatrical career that extends from his boyhood in Idaho more than 70 years ago. "I heard 230 talented performers and am once again astonished at the considerable talent pool we have in Utah. The script did not lend itself to more than 61 performers, but I could have cast it with many more.  We hope you will come and be our guest."
He especially appreciates the music by Alan Menken, the late Howard Ashman and Tim Rice, calling it "singularly captivating with music you can sing and love. No wonder it ran for more than 5,000 shows on Broadway and continues to be well-received by audiences. I just love 'Beauty and the Beast.'"
He says he was thrilled to find "really talented people who can project the meaning of the story through song."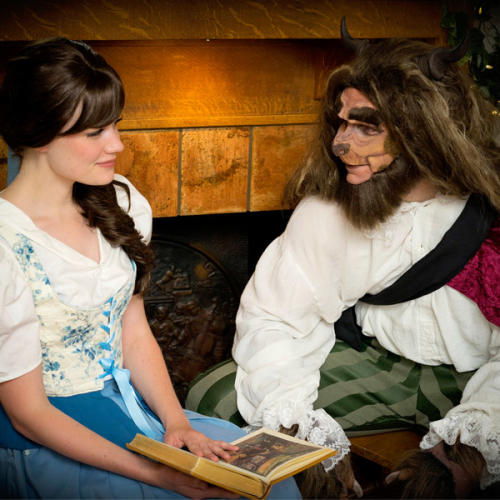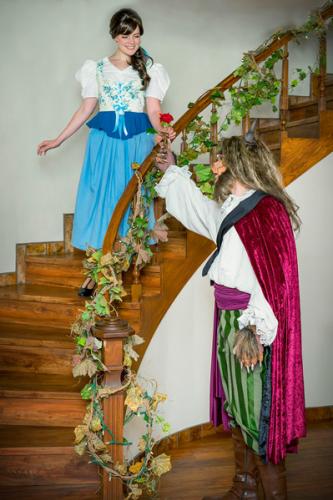 Most people likely will be familiar with the tale of a selfish and cold-blooded prince who has been transformed into an unsightly beast as a punishment for his egotistic and narcissistic behavior. As the tale begins, Beast has a looming deadline. The only way to reverse the curse is to learn to love someone and then be loved in return—before it's too late.
As gloomy as the scenario seems, Disney has injected the work with considerable joy, liveliness and energy in the form of supporting characters, personified by a candlestick, clock, wardrobe and piano. There is even a handsome villain who probably is even more self-centered than the beast had been. At the center is a talented, intelligent and a bit bookish beauty named Belle as well as the morose Beast.
"'Beauty and the Beast' will adapt well to the SCERA Shell stage," Elison adds. "We have a dark castle to be sure, but we also have some fantastic trees that create a forest designed from the imagination of our set designer Shawn Mortensen."
As usual of Elison's shows, he surrounds himself with creative and talented people—including several former students of his who have remained in theatrical arts. His support staff includes Dana Cardon, music direction; Dani LeCompte, choreography; Julie Bonifay, assistant director; and Crysta Powell, stage manager.  Kelsey Seaver is costume designer and Mark Ohran is lighting designer.
Starring roles will be filled by Lauren Pope and David Matthew Smith as Belle and the Prince/Beast. Other key players are Josh Egbert as Gaston, J. Arden Hopkin as Maurice; Kyle Baugh as Cogsworth, Samuel Wright as Lumiere, Janalee Hess as Mrs. Potts; Brett Barry as Chip; Brittney Wallace as Babette; Tanner Wood as Gaston's sidekick Lefou, and Aubrey Brinkerhoff as the wardrobe.
General admission tickets for the musical are $12 for adults and $10 for children 3-11 and seniors 65 and older. Reserved sections range from $15 to $18 for adults and $13 to $16 for children and seniors. Group rates for non-profit groups or official church activities of 20 or more are $6 and must be purchased in advance. Tickets are available at scera.org, by calling 801-225-ARTS, at the SCERA Center for the Arts (745 South State, Orem) weekdays, or at the gate one hour prior to performance.
APRIL BERLIN
Operations Manager/Marketing & Development
SCERA Center for the Arts
745 South State, Orem, UT 84058