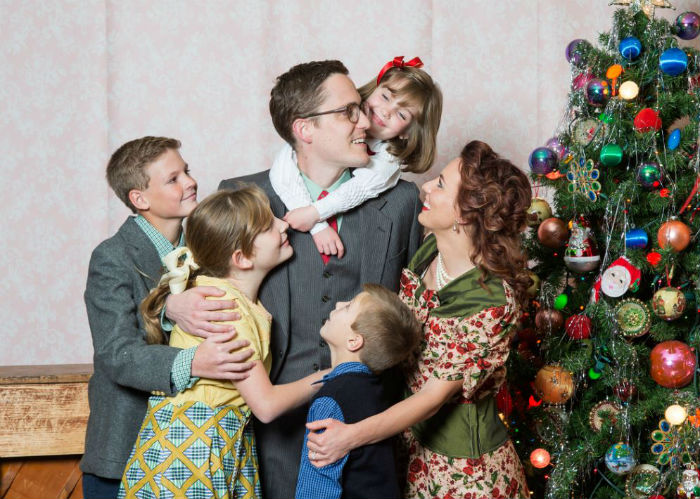 (Orem, Utah) -- It's the holiday season and SCERA Center for the Arts is preparing to show audiences that it's also the season for a wonderful life when it presents the classic Frank Capra story in musical form Dec. 4-19 at 7:30 p.m.    
            Reserved seat tickets for "It's a Wonderful Life: The Musical" are available at $12 adults and $10 for children (age 3-11) and adults (age 65 and older). Group rates for non-profit and church groups of 20 more are offered at $6 (advance purchase required). Tickets are available at www.scera.org, by calling (801) 225-ARTS, in person at SCERA Center main office, 745 South Orem, open 10am-6pm weekdays and Saturdays from 12noon-6pm.  The musical runs Mondays, Wednesdays, Thursdays, Fridays and Saturdays.  Patrons are encouraged to come early and enjoy the musical harmonies of the Mullen Family Triplets in the lobby beginning at 7:00pm.  
            The beloved story of George Bailey, a man whose dreams of adventure have been derailed by family and community responsibilities-and who is rescued from despair from an unlikely angel named Clarence-has attracted audiences for nearly 70 years. The Frank Capra classic reminds people that life, despite its challenges, is still pretty wonderful.
            Director Michael Carrasco, who graduated from the prestigious American Academy of Dramatic Arts in California, says nearly 100 people turned out for the audition, and he was thrilled to find considerable talent in veteran actors as well as newcomers.
            "They are excited to do this uplifting show and so am I," he says.
            "I am also eager to present 'It's a Wonderful Life,'" says Adam J. Robertson, SCERA's President and CEO. "This is such a heart-warming story. It's full of humanity and is the perfect tale for the Christmas season."
            One of the challenges of "It's a Wonderful Life" is that people know the story so well, they expect to see Jimmy Stewart, because he and the other actors created characters that have become iconic, according to Carrasco. "It is helpful that this show is a musical, unlike the movie, and that the music helps audiences connect with the characters on stage."
            Carrasco believes the George Bailey character carries the show and cast Matthew Nelson in the critical role. Other main players are Star Hall as the angel Clarence Odbody, Natalie Merrill as Mary Hatch Bailey, Chris Bradford as Uncle Billy and Eric Glissmeyer as Henry Potter. The director is also using live piano as part of his concept, and pianist Andrew Walsh will accompany the cast onstage.  Whenever possible, Carrasco put families who auditioned together in the musical so all members could share this holiday experience.
            "There are different musical versions of 'It's a Wonderful Life,' but I like this production much better. I prefer the music and the script, and I am happy to give audiences a new look at a beloved classic."
            Nat Reed's set design resembles a bridge with archways that open to reveal locations in the story. The set and lights will be colorful when Bailey reflects happily on his life but become black and white during the point where he wishes he had never been born.
            Assisting Carrasco is Martha Glissmeyer as musical director, Shawn Mortensen as choreographer and Danielle Berry as stage manager. "I can't wait for the community to see it," Carrasco adds. "It will likely be one of their better holiday treats, and the message that we have all made a difference in the world will resonate throughout the theatre."    
# # #