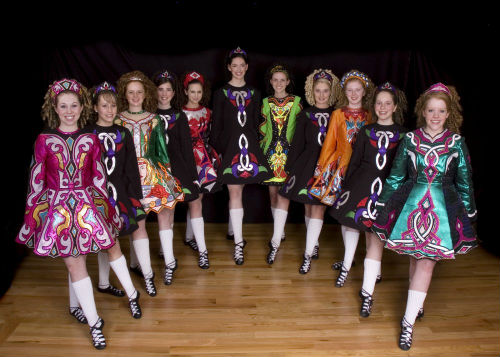 (Orem, Utah) -- A professional dancer who teaches and adjudicates Irish dance nationwide-and who has been dancing since age six-promises the Rhythm of Ireland concert at the SCERA Center for the Arts Jan. 13-16 will be a first-rate showcase of traditional and Irish dance.
The concert will play off of the popularity of the familiar Riverdance style but will also highlight lyrical Irish dancing and Highland forms, says director and founder Tina Shelley of the Shelley School of Irish Dance.
"This is an evening designed to dazzle you," says Adam J. Robertson, SCERA's President and CEO. "On top of some amazing dances, you'll see brilliantly colored costumes competitively worn by the highest ranked performers."
Rhythm of Ireland will play Wednesday through Saturday at 7 p.m. in Showhouse II at SCERA Center for the Arts, 745 South State, Orem. Tickets at $12 for adults and $10 for children 3-11 and adults 65 and older are available online at scera.org, by calling 801-225-ARTS or visiting the main office between 10 a.m. to 6 p.m. weekdays and Saturday from noon to 6 p.m. All seats are reserved.
Shelley is bringing in several guests to give insights into other Irish arts forms, including Mark Geslisons's BYU Celtic Band, the Timpanogos Pipe Band, and L'esthetique, a Highland dance company directed by Kathryn Mecham of Cedar Hills.
"We want people to see a full range of Irish dancing and music," Shelley says. "Expect some show-stopping numbers. As a bonus to my dancers, the guests also will help give us time for our many costume changes."
Shelley says SCERA offers an ideal, intimate theater. "The audience is up close and will easily experience the theatrical elements, including our fog machine, ribbons and glittery solo costumes to enhance the performance.
They also will wear the highest level of jewels worn by the highest level of performers."
Although Shelley has studied and loved such dance forms as ballet, jazz, tap and hip hop, she considers Irish dance the most vital dance she has studied. "There is something so vibrant about the dance and rhythms that hits you right in the center. It is especially satisfying to me as a teacher, because I help children with their rhythm and confidence, which brings a lot of joy to my life."
For Shelley, Irish dance is all in the family. Her four children-a boy and three girls-all perform Irish dance, and her oldest child, 15-year-old Evie, has hit the highest ranking. Irish dance has four levels, and talented, disciplined and highly motivated students typically reach the top rung in four or five years. The highest ranking has two levels, and all the performers in the SCERA event will have achieved those levels.
Shelley's own past includes competing at nationals and qualifying for world championships. Brigham Young University recruited her with a folk dance scholarship, and as a freshman she began teaching Irish dance for the university's folk dance program. She also performed on stage both for the International Folk Dance Ensemble and Young Ambassadors. After graduation she served part-time on the dance faculty and developed the Irish dance curriculum that is still featured.
As her profile increased, she developed a community presence that eventually led to her dance school.
"I remember one persistent Mom who saw me perform in BYU's Christmas Around the World concert and insisted I teach her daughter. I was an 18-year-old freshman without a car. But she didn't give up. She would pick me up and I taught her child in the foyer of a church.
"I just rolled with the punches and it just escalated to a regular dance space and more students. Because I had grown up in a certified program, with elements that made for excellence with the Deely Dance Company in Northern California, I studied for and took a rigorous written exam and traveled to Los Angeles where I performed and was judged by a panel form Ireland."
In 2009 she added judging to her credentials, and as a certified judge, she travels extensively in the cause of excellence among Irish dancing.
"This is music and dance that touches everyone," she adds. "I know the SCERA audience will be excited during the concerts. It just does something to your heart."
# # #