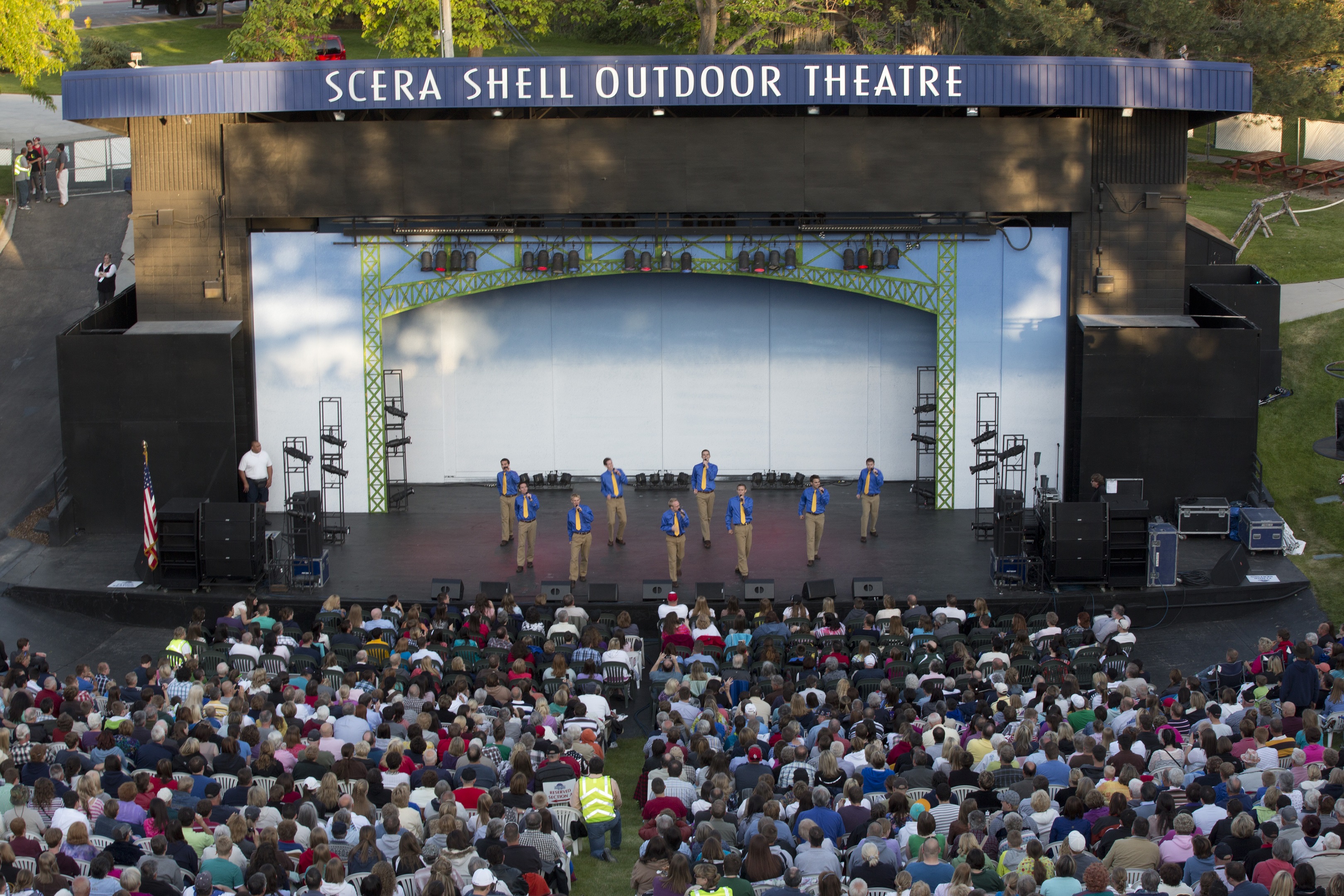 Contact: SCERA, (801) 225-ARTS, April Berlin (x. 1011) or Adam Robertson (x. 1014)
For release
SCERA Shell Outdoor Theatre Announces 31st Summer Season Under The Stars
(Orem, Utah) -- The SCERA Shell Outdoor Theatre turns 31 years old this year and will celebrate with a 2015 summer season under the stars packed with concerts, musicals and outdoor movies. All performances will begin at 8 p.m.
Festivities will begin Memorial Day, May 25 with America's premier acappella stylists, The Liberty Voices. The Liberty Voices is a world-famous, eight-part acappella group that sings Americana, Folk, Disney and Patriotic Songs. A vocal powerhouse that has performed for five U.S. Presidents, The Liberty Voices have toured the country and world, been featured on national television, and at national and international conventions. With tight harmonies and a thrilling musical range, this Florida-based vocal band has been called "The United States vocal ambassadors to the world!"
The first live theatre production of the summer is Disney and Cameron Mackintosh's "Mary Poppins," directed by Jeremy Showgren and playing June 5-20. Everyone's favorite practically perfect nanny takes the stage in this supercalifragilisticexpialidocious musical. Based on the books by P.L. Travers and the Disney film, Mary Poppins was nominated for nine Olivier and seven Tony Awards, including Best Musical. Bert, the jack-of-all-chimney sweeps, introduces us to the troubled Banks family. Young Jane and Michael have sent many a nanny packing before Mary Poppins arrives on their doorstep. Using a combination of magic and common sense, she teaches the family that "anything can happen if you let it" and how to value each other again. Mary Poppins is an enchanting mixture of irresistible story, unforgettable songs, breathtaking dance numbers, and astonishing stagecraft.
Also featured in June, on the 22, is Brazilian music legend Sergio Mendes and Brasil 2015. With nearly 40 albums to his credit and monster hits The Look of Love and Never Gonna Let You Go, Grammy-winning Sergio Mendes spins infectious Brazilian dance rhythms and addictive melodies - ranging from samba-based bossa nova and sophisticated jazz, soul and funk to sensuous harmonies and contemporary Latin pop. Complete with hot vocalists and a bevy of thrilling musicians, Sergio is a world-renowned maestro who is one of the most musically creative geniuses of our time...his unparalleled style is fresh, his harmonies intoxicating, and his live concerts - not to be missed!
July brings two events that are sure to please. July 2-18 is the popular family musical "Joseph and the Amazing Technicolor Dreamcoat," directed by Shawn Mortensen. The Biblical saga of a prophetic dreamer named Joseph and his many-splendored coat comes to vibrant life in this delightful musical parable. Tim Rice and Andrew Lloyd Webber's fun-filled but heartfelt Old Testament tale is the rags-to-riches story of Joseph, his eleven jealous brothers, a Pharoah who bears a strong resemblance to Elvis, and that infamous coat of many colors. Set to a megamix of musical styles, from country-western and calypso to bubble-gum pop and rock 'n' roll, Joseph is a dream of a show for the whole family. The energetic score is packed with hit songs, including Close Every Door, Go, Go, Go Joseph and Any Dream Will Do.
Add to your pioneer week celebrations on July 20 when The Jets and special guest Debbie Gibson come to town for an 80's music supershow. Originally from Tonga, The Jets are a Grammy-nominated group of vocally-tight sibling sensations who soared to the top of the pop and R&B charts with hits Crush On You, You Got It All, Make It Real and Rocket 2 U. Debbie Gibson is a charismatic pop icon with 16 million albums sold and 80's classics Electric Youth, Foolish Beat, Lost In Your Eyes, Shake Your Love, Only In My Dreams and more. After more than 25 years in the spotlight, including starring roles on Broadway, Gibson has perfected the art of entertainment magic and continues to dazzle fans throughout the world.
The third and final musical of the summer is the Gershwin musical comedy "Crazy For You," directed by Jerry Elison. Playing July 31-August 15, Crazy For You is a Tony Award-winning song and dance spectacular featuring the unforgettable music of George and Ira Gershwin - Someone to Watch Over Me, Embraceable You, I Got Rhythm, They Can't Take That Away From Me, I Can't Be Bothered Now and Nice Work If You Can Get It. The irresistible fun centers around Bobby Child, a stage-struck NYC banker who heads to desolate Deadrock, Nevada to foreclose a rundown theater. It's love at first sight when he runs into spunky Polly Baker, the theater owner's daughter, who doesn't realize he's the heartless businessman she's vowed to get even with.
August continues with three concerts. Classically trained tenor Nathan Pacheco with The Utah Valley Symphony will perform August 17. From his signature masterpiece Nessun Dorma to the more contemporary Bring Him Home from Les Mis, Pacheco is a crossover artist often compared to Josh Groban and Il Divo. He released his solo CD in 2012, completed his debut tour in 2013, and has been featured globally in live performances, including touring with Yanni and Katherine Jenkins, performing for Prince Charles, and with various prestigious symphonies. Pacheco was one of only two chosen to perform in "A Summer Evening of Music" with the Mormon Tabernacle Choir, last year headlined BYU's Homecoming Spectacular, and has been featured in two PBS specials.
Thrilling ballroom, jazz and hip-hop choreography will be showcased Aug. 21-22 in the 10th annual "Dancing Under the Stars," featuring award-winning teams from Center Stage, dance studios from across the state, and special guest Jaci Royal and Royal Flux from Los Angeles.
August 28 will feature country music superstar Clay Walker. After more than two decades in the national spotlight and eleven #1 singles, Texas born and bred Clay Walker is an authentic multi-platinum country artist who never gives less than 100% in his incredibly entertaining and energetic live concerts! Full of down-home country charm and strong family values, Clay brings his upbeat personality and evocative voice to an endless string of huge hits including What's It to You, Live Until I Die, Dreaming With My Eyes Wide Open, If I Could Make a Living, This Woman and This Man, Rumor Has It, Then What, Who Needs You Baby, Hypnotize The Moon, Only on Days That End in "Y" and She Won't Be Lonely Long.
The 2015 summer season concludes Labor Day Sept. 7 with Arrival: The Music of ABBA. Direct from Sweden and having toured more than 20 nations around the globe, Arrival's live song and dance extravaganza is the best and largest ABBA tribute show in the world, with exclusive rights to exactly re-create ABBA's costumes, music and staging! It's an Abbasolutely spectacular night of entertainment, with a live band and vocalists who have mastered the sound of ABBA so perfectly, a test on Swedish national radio fooled even the biggest fans. It's a pop music party featuring hits Mama Mia, Dancing Queen and all your 70's favorites!
"We've got something to entertain just about everyone," says Adam J. Robertson, SCERA President & CEO. "Some country, pop, acappella, classical, 80's and world music -- plus some stage favorites that are nostalgic, magical and fun."
Season tickets include all three musicals and all seven concerts and offers a 50 percent discount off the individual event price. General admission season tickets are $80 for adults and $70 for children (age 3-11), and seniors (age 65+).

To purchase season or individual event tickets, call (801) 225-ARTS, visit www.scera.org or stop by the SCERA Center for the Arts, 745 South State, Orem, open 10am-6pm weekdays and Saturdays from 12Noon-6pm.
There are several events not included on the season ticket, including a series of outdoor movies shown on a big screen. They include "Big Hero 6" (June 10), "Into The Woods" (June 17), "Jaws" (July 8), "Hunger Games Mockingjay Part 1" (July 15), "Honey, I Shrunk The Kids" (Aug. 5), "Wait Until Dark" (Aug. 12), "Raiders of the Lost Ark" (Sept. 11) and "Guardian of the Galaxy" (Sept. 12). Each movie begins at dusk. Admission to an individual movie is $4 for adults and $3 for children and seniors or patrons may purchase the 8-movie series.
Two other special events are also offered, including a free fireside with Jason Hewlett on Sunday, September 6th @ 7pm. Known for his family-friendly music impressions, Jason Hewlett is a one-man entertainer and a member of the National Speaker's Association who has turned his G-rated comedic success into a joyful and inspiring fireside where he shares his faith in God through humor and music. No tickets or reservations required.
Enjoy family night with The Nashville Tribute Band on Monday, August 24 @ 7:00pm. Country music meets LDS music in an inspirational concert featuring songs from the band's acclaimed album Redeemer: A Nashville Tribute to Jesus Christ. Their unique take on uplifting and upbeat country has touched hearts around the world! Tickets are $10 Adult, $8 Child/Senior, with reserved areas and group rates also available.
The SCERA Shell Outdoor Theatre is located at 699 South State, Orem, in the middle of SCERA Park. Patrons can bring a blanket or rent a first-come, first-serve chair for $1.00.
# # #
April Berlin
Operations, Marketing & Development Manager, SCERA
p:801-225-ARTS ext. 1011 | m:801-369-0946 | e:april@scera.org | w:www.scera.org | a:745 South State, Orem, UT 84058