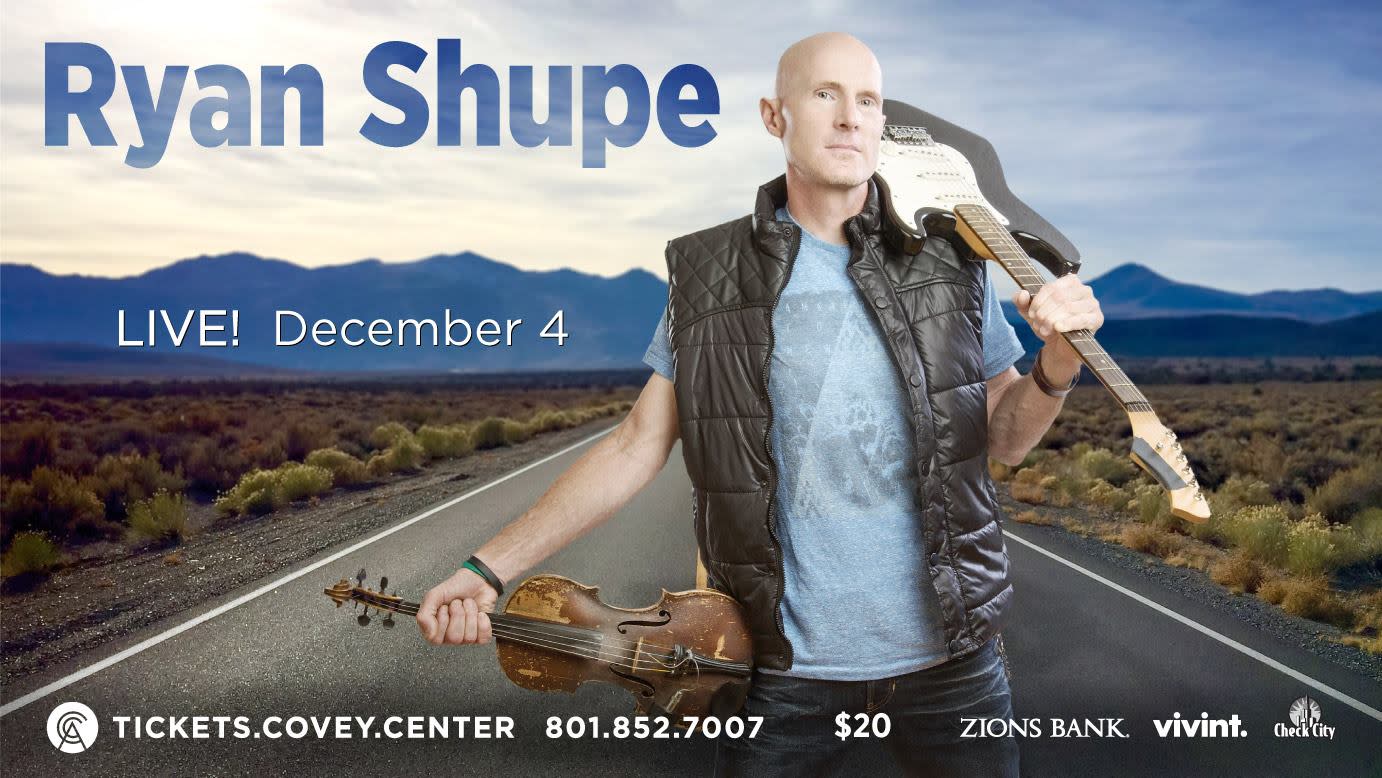 PROVO, UT: Bluegrass musician Ryan Shupe and his band are returning to perform their 5th Christmas show at the Covey Center! They will be performing their beloved holiday tradition, The Gift, on Friday, December 4 at 7:30pm. Tickets are $20, and are on sale now! With the same light-hearted energy that brightens their popular live concerts throughout the year, Ryan Shupe and his band tailor their rocking, acoustic sound to fit their favorite time of the year. In typical Shupe fashion, the show is fun and energetic, but it also captures the spirit and meaning of Christmas.

Ryan Shupe Christmas-The Gift is the perfect way to spend time with your friends and family this holiday season. Surrounded by Christmas lights, Santa hats, stellar musicianship, and tight harmonies, you will be sure to feel the warmth and goodness that this time of year is all about. Sing along to all your favorite Christmas songs, from the calypso influenced "Rudolph the Red Nosed Reindeer," to the beatnik version of "Drummer Boy," to the rocking bluegrass version of "Jingle Bells." You won't regret making Ryan Shupe Christmas your newest holiday tradition!
Ryan Shupe is roaring back with "We Rode On", his new album coming the first part of 2016. "We Rode On" marks a striking career transition and a meaningful evolution in Shupe's songwriting, his life, and the band's sound.  It strongly and deftly combines the rock side of their musical arsenal with the acoustic instruments and virtuosic jamming the band has become known for in their live shows.
Like a mad musical scientist (and father/husband), Ryan Shupe recorded, arranged and tweaked the band's newest creation in his personal studio.  "I wanted to create a new sound and an evolution for the band's music" said Shupe, "It's the best album we've done and definitely the most rocking!"
The album focuses on themes like family, love, and maturity.  The epic title track, "We Rode On" triumphantly belts out the phrase "singing songs at the top of our lungs" while the anthemic "Sun Will Shine Again" is a mantra to Shupe's children.  The catchy, rocking "If I Stay" and "Just Say Yes" deal with love interest dilemmas.  "Dream Big", a revamped version of their Billboard charting Capitol Records release, is triumphant, inspirational and powerful.
Being a 5th generation fiddler, an accomplished electric guitar, acoustic guitar and mandolin player, Shupe has been touring extensively across the US since he was 10 years old.  He is no stranger to the national stage and the band has appeared on Good Morning America, E! TV, Mountain Stage, Woodsongs, GAC and CMT.
They continue to tour regularly with stops at festivals, concert series, special events and prestigious venues.  Bringing a national team together with radio, marketing, social media, and publicity, the band will continue touring nationally through 2015 and 2016 to promote the album, starting with the regions where they have a strong following.
***********


MORE ON OUR FEATURED ARTISTS
Visit the official website for Ryan Shupe and his band at www.ryanshupe.com
Check out their music videos and other media at www.ryanshupe.com/media
To get a taste of their Christmas Show "The Gift", check out this video


MORE ON THE COVEY CENTER FOR THE ARTS
What is the Covey Center? The Covey Center for the Arts exists to allow its founders and supporters the opportunity to enrich the lives of our community and endow all that is good in the arts for generations to come. The Covey takes great pride in providing valuable educational and creative development opportunities for youth and families alike and features first class entertainment and art exhibits appropriate for all ages.
THE COVEY CENTER FOR THE ARTS is conveniently located in the heart of Provo at 425 W Center Street, Provo, UT 84601. Constructed in 2007, this 42,000 sq. foot premiere performance rental facility features:
A 670-seat performance hall with theatre and balcony seating
Three dance studios furnished with a piano, ballet bars, and walled mirrors
A 100-seat black box theater
Three art galleries
A state-of-the-art sound system
Full theatrical lighting with a 75-ft. theatrical fly
Two backstage green rooms with make-up mirrors and;
A full orchestra pit
In addition to serving the community as a premier venue for local performers and artists, The Covey Center for the Arts regularly attracts and features internationally known acts such as America, Kenny Loggins, George Winston, Stomp, David Lanz, Michael Ballam, The Beach Boys, Ryan Shupe, The Oak Ridge Boys, Kurt Bestor, Styx, and Foreigner.