Come on Under!
(Orem, Utah) -- Stars of the Tony Award-winning musical "Jersey Boys" and the stars of three PBS specials are taking their considerable triple threat talents on the road and under the stars when they rock around the clock at SCERA Shell Outdoor Theatre on Monday, August 20. The foursome will present a celebration of musical hits from the 1950s through 1970s, including Doo Wop, Motown and old-time rock and roll hits.
Under the Streetlamp brings tight harmonies, retro suits and slick dance moves to a nostalgic and entertaining evening featuring hit after vintage hit.
Showtime is 8 p.m. at the Shell, 699 S. State St., in the center of SCERA Park in Orem. General admission tickets are $20 for adults and $15 for children 3-11 and seniors 65 and older. Reserved area tickets range from $25 to $35 for adults and $20 to $25 for children and seniors. They are available at scera.org, by calling 801-225-ARTS, in person at the main office at SCERA Center for the Arts (745 S. State St.) or at the gate 90 minutes prior to performance.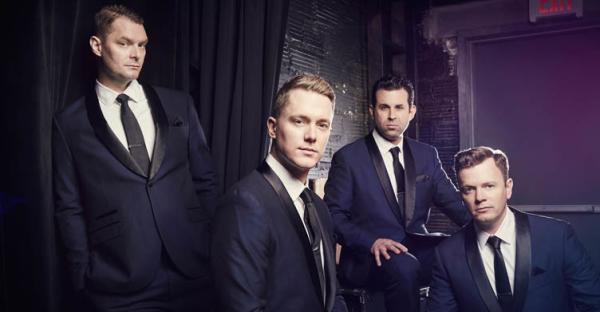 Under The Streetlamp performs music by the likes of Frankie Valli and The Four Seasons, Elvis Presley, Tom Jones, The Beatles, Roy Orbison, Bobby Darrin and many more.
The four stars—Eric Gutman, David Larsen, Brandon Wardell and Shonn Wiley—have impressive performance resumes that include, among others, appearances during the New Year's Eve celebration in Times Square, on "The Tonight Show," on Emmy and Tony award shows, and on the Oprah Winfrey Show.  Their Broadway resumes are extensive as well.
The singers met onstage when they played the lead characters in "Jersey Boys." Since then, they have formed their own group to create Under the Streetlamp and been featured in three PBS television specials. In 2017, the quartet released "Harmonies for Healing," a two-part documentary that aired on PBS stations nationwide. The show centers around a singing competition that spotlighted the undeniable power of music as a tool for inspiring and effecting positive changes in the lives of people.
by APRIL BERLIN
Operations Manager/Marketing & Development at SCERA Center for the Arts