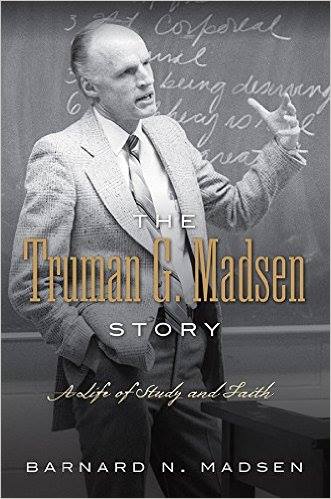 On 1 May 2016, Deseret Book will release the eBook version of The Truman G. Madsen Story: A Life of Study and Faith, and on 9 May 2016 will release the hardcover version. Six years in the making and drawn from his extensive journal files, this 500-plus-page volume with over 120 photos is as autobiographical as possible and tells the story of Truman's inner life, personal choices, and experiences, many unknown outside his family, that helped him achieve an extraordinary equilibrium between his intellectual and spiritual life. Author Barnard N. Madsen, Truman's son, has agreed to give a brief lecture about the book in connection with a book signing at Pioneer Book on Saturday, May 14, 2016, at 7:00 p.m. We invite you to join us. Copies of the biography will be available to purchase and for Barney to sign.
FREE ADMISSION
When:  Saturday, May 24, 2016 at 7:00 p.m.
Where: Pioneer Book
            450 W. Center Street
            Provo
Please help us spread the news about this event! Truman G. Madsen was an incredibly influential scholar in the Utah Valley and Mormon communities, and hearing about his life from his son's perspective will give a uniquely personal glimpse into Madsen's life.
For further information, please visit the Facebook event page at
https://www.facebook.com/events/1698679073708505/?active_tab=posts
or email pioneerbook@msn.com