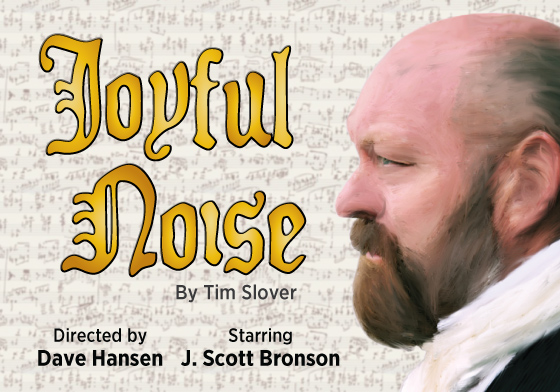 PROVO, UT: After seven years of Christmas tradition, it is time for this community favorite to make its final run. What began in 2008 has continued over the years with various casts and directors, bringing the spirit of Christmas to Provo every December. With the decision to begin a new Christmas tradition next year, this will be the last time Joyful Noise will play in the Brinton Black Box Theatre. It will run Thursday, December 3rd - Monday, December 21st at 7:30pm (there are no showings on Tuesdays and Wednesdays). Tickets are $14, with a $2 discount for students, seniors, and military. Tickets are on sale now and can be purchased online at covey.center or at the Box Office.
Joyful Noise:  Written by Utah playwright Tim Slover, Joyful Noise provides the perfect companion to the traditional holiday favorite, Handel's Messiah. In a touching dramatization of historical events, this production tells the story behind the writing of George Frederick Handel's Messiah. Handel himself fights and befriends a librettist, a King, and two of the greatest actresses of the 18th century stage, whose rivalry extends far beyond their relationship with Handel. Declining careers, public scandal, and religious zeal take their toll on each one. As nearly every character in this play experiences frustration, indignation, defamation, and even humiliation, each one finds salvation in the glory of Handel's sacred music about the redemption of Jesus Christ.
At its core, Joyful Noise is a play about redemption. It is a smart, well-written play replete with interesting characters, humor, and grand emotion. Everyone in the play has in some way been "damaged" and through their interactions with Handel's Messiah, they find redemption. The same wonderful cast will be returning for the third year in a row, including the riveting J. Scott Bronson and brilliant director Dave Hanson. Don't miss the extraordinary and miraculous birth of Handel's Messiah!
 ***********
What is the Covey Center? The Covey Center for the Arts exists to allow its founders and supporters the opportunity to enrich the lives of our community and endow all that is good in the arts for generations to come. The Covey takes great pride in providing valuable educational and creative development opportunities for youth and families alike and features first class entertainment and art exhibits appropriate for all ages.
MORE ON THE COVEY CENTER FOR THE ARTS
THE COVEY CENTER FOR THE ARTS is conveniently located in the heart of Provo at 425 W Center Street, Provo, UT 84601. Constructed in 2007, this 42,000 sq. foot premiere performance rental facility features:
A 670-seat performance hall with theatre and balcony seating
Three dance studios furnished with a piano, ballet bars, and walled mirrors
A 100-seat black box theater
Three art galleries
A state-of-the-art sound system
Full theatrical lighting with a 75-ft. theatrical fly
Two backstage green rooms with make-up mirrors and;
A full orchestra pit
In addition to serving the community as a premier venue for local performers and artists, The Covey Center for the Arts regularly attracts and features internationally known acts such as America, Kenny Loggins, George Winston, Stomp, David Lanz, Michael Ballam, The Beach Boys, Ryan Shupe, The Oak Ridge Boys, Kurt Bestor, Styx, and Foreigner.