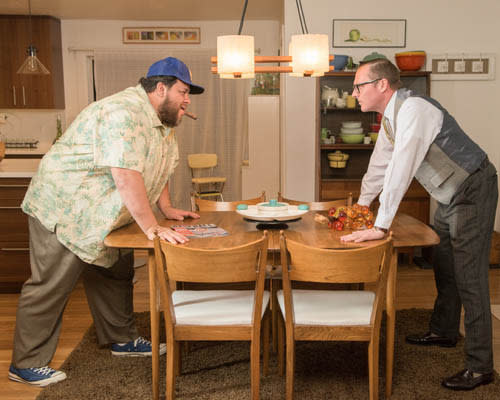 Two unlikely roommates – a neat-freak journalist and a sloppy sports writer – drive each other up the wall in this laugh-out-loud, screwball comedy. Oscar, who is divorced, and Felix, who has only recently split up, must learn what it means to get along. This classic is just the right amount of odd.
The Odd Couple will run from Dec. 31 – Feb. 9 nightly at 7:30PM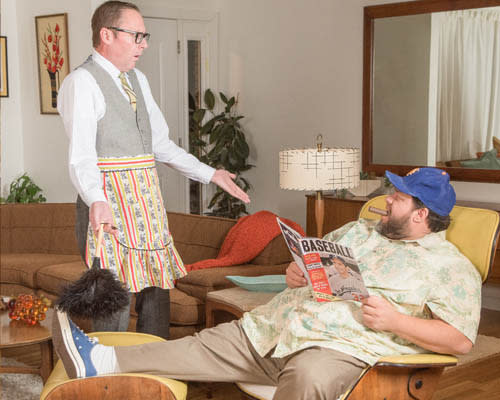 Production Team
Director – David Morgan
Production Stage Manager – Meagan M. Downey
Costume Design – Peter Terry
Hair and Make-up Design – Janna Larsen
Technical Direction & Sound Design – Cole McClure
Scenic Design – Bobby Swenson
Lighting Design – Cody Swenson
Properties – Linda Hale
The Cast
| | |
| --- | --- |
| Oscar Madison | Jake Ben Suazo |
| Felix Unger | Geoff Means |
| Speed | Archelaus Crisanto |
| Murray | Bryan M. Daley |
| Roy | Ben Parkes |
| Vinnie | Daniel Hess |
| Gwendolyn Pigeon | Alice Johnson |
| Cecily Pigeon | Becca Ashton |

Hale Center Foundation for the Arts and Education is a not-for-profit performing arts center whose mission is to provide a high quality, intimate theatrical experience while maintaining affordable ticket prices; furnish an excellent venue for artists to express their talents and gain valuable experience; and invest in people by providing a positive place for children and adults to learn and perform.
By Joseph Paul Branca, Director of Marketing and Advertising, Hale Center Theater Orem
Photo credit: Suzy Oliviera