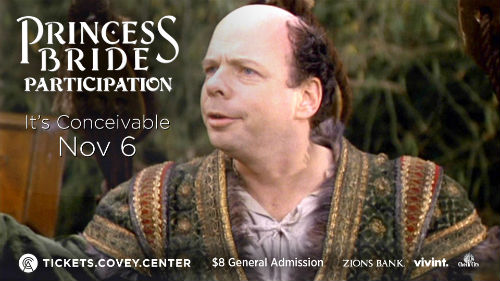 PROVO, UT: Do you "tweasure your wuv" of the Princess Bride? Do you watch it over and over, and over again? Can you quote all the famous lines of Inigo Montoya? Then prepare to die-of laughter! The Covey Center presents Princess Bride Participation, an inconceivably zany screening of Utah's most beloved movie, on Friday, November 6th at 7:30pm. General Admission tickets are $8, and all ages are welcome!
Let's do the fire swamp again! Akin to the participation style of the Rocky Horror Picture Show, we invite you to come dressed as your favorite Princess Bride character. We hope to see everyone represented, from Westley and Buttercup, all the way to Miracle Max and rats of unusual size! Throughout the film, audience members in character will be invited onstage to perform the lines and scenes along with the movie. The talented cast of ImprovBroadway will be onstage to coordinate audience participation, as we rescue the princess and brave the fire swamp together!
As the movie was described when it hit theaters 28 years ago, this is "not just your basic, average, every day, ordinary, run-of-the-mill, ho-hum fairy tale." This is Princess Bride Participation-where die-hard fans can come together to laugh, cry (of laughter), and quote their hearts out!
***********
What is the Covey Center? The Covey Center for the Arts exists to allow its founders and supporters the opportunity to enrich the lives of our community and endow all that is good in the arts for generations to come. The Covey takes great pride in providing valuable educational and creative development opportunities for youth and families alike and features first class entertainment and art exhibits appropriate for all ages.
MORE ON THE COVEY CENTER FOR THE ARTS
THE COVEY CENTER FOR THE ARTS is conveniently located in the heart of Provo at 425 W Center Street, Provo, UT 84601. Constructed in 2007, this 42,000 sq. foot premiere performance rental facility features:
A 670-seat performance hall with theatre and balcony seating
Three dance studios furnished with a piano, ballet bars, and walled mirrors
A 100-seat black box theater
Three art galleries
A state-of-the-art sound system
Full theatrical lighting with a 75-ft. theatrical fly
Two backstage green rooms with make-up mirrors and;
A full orchestra pit
In addition to serving the community as a premier venue for local performers and artists, The Covey Center for the Arts regularly attracts and features internationally known acts such as America, Kenny Loggins, George Winston, Stomp, David Lanz, Michael Ballam, The Beach Boys, Ryan Shupe, The Oak Ridge Boys, Kurt Bestor, Styx, and Foreigner.