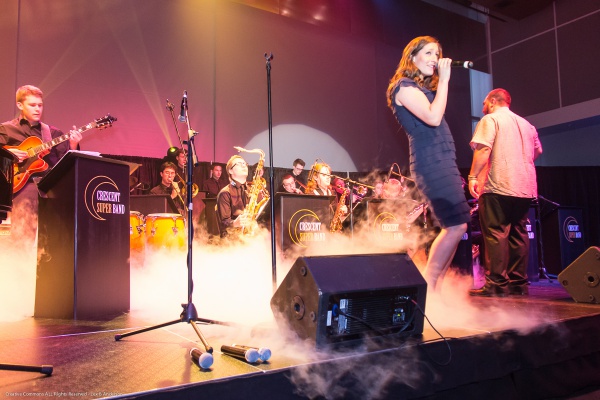 Caleb Chapman's Crescent Super Band brings their Christmas concert back to SCERA December 21-22
(Orem, Utah) -- Caleb Chapman's flagship Crescent Super Band is so talented, hip, and enthusiastic that Utah Gov. Gary Herbert presented Chapman with his prestigious Governor's Performing Artist Award in 2013. The award, which is given to only one artist every year, is merely one of many high-profile accolades for an artist that has been amassing crowds wherever he and his musicians perform.
Energetic and talented teens from Utah swarm to join Chapman - who is also a first-class saxophonist - as he presents concerts both local and abroad. Audiences have cheered their sounds from Utah to Manhattan to the Netherlands.
Chapman's Crescent Super Band will perform at the SCERA Center for the Arts with a lively and impressive holiday concert Dec. 21 and 22 at 7 p.m. in Showhouse II, 745 S. State Street in Orem. Reserved seats tickets are available at $12 for adults and $10 for seniors 65 and older and children from three to 11. Anticipated to be a sellout, available tickets may be obtained at scera.org, by calling 801-225-ARTS (2787) or at the SCERA Center 10 a.m. to 6 p.m. weekdays and noon to 6 p.m. Saturdays.
The band, along with their top-notch vocalists, will perform big band and jazz arrangements of American Christmas standards from their album "Crescent Christmas." 
Since founding the band as a student and earning his bachelor's degree in music from BYU in 2002, Chapman has taken his skills as a producer, educator, author, and performer and used them on a select group of talented youth ages 12 through 18. The resulting bands are considered as the finest of their kind, typified by a quiver full of honors, including nearly three dozen DownBeat Awards and Caleb's selection as the John LaPorta International Jazz Educator of the Year. The honors continue with Caleb named Utah's Best Educator and Utah Best of State. As president-elect for the Jazz Education Network, he will be in a position to advocate and promote jazz. Last year he directed the Jazz Band of America in Indianapolis.
More than 200 artists of note frequently perform or record with Caleb and the band, including members of such well-known bands as Maroon 5, Dave Matthews Band, Journey, Big Bad Voodoo Daddy, Tower of Power, the Rolling Stones, Neon Trees, and the Saturday Night Live Band. For the SCERA concert, he is bringing special guests Ryan Innes and The Voodoo Orchestra.
While Utah is probably not noted as a jazz capital, Caleb is bound to change that, according to JAZZed Magazine, which wrote, "For those looking for a savior of jazz education, mild-mannered and sparsely populated Utah probably isn't high on the list of scouting locations. But what's where ambitious private teacher-turned-bandleader Caleb Chapman calls home, and he's gone a long way toward creating one of the most successful youth jazz programs in the country."
# # #
April Berlin
Operations, Marketing & Development Manager, SCERA
p:801-225-ARTS ext. 1011 | m:801-369-0946 | e:april@scera.org | w:www.scera.org | a:745 South State, Orem, UT 84058