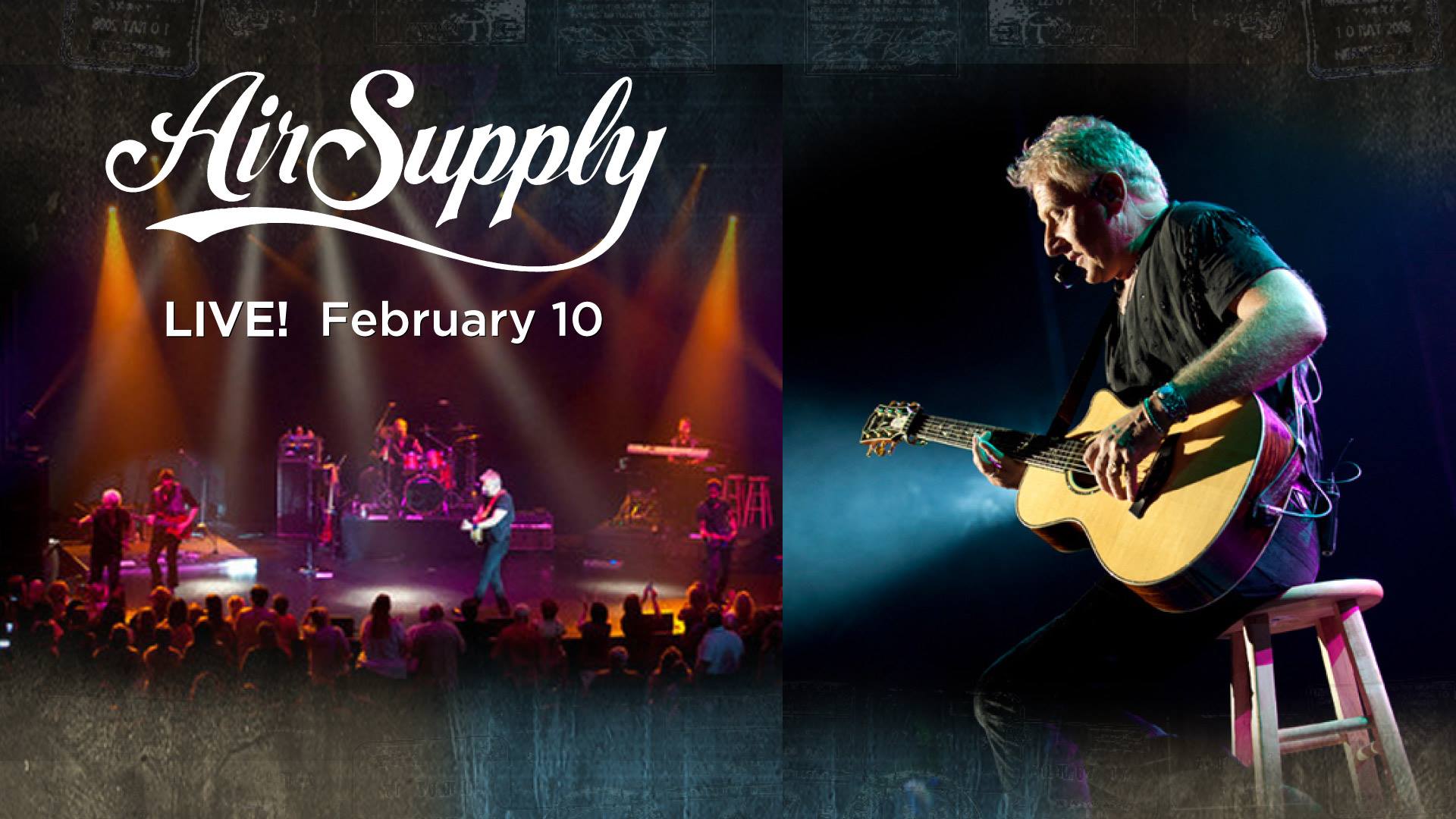 PROVO, UT: The Australian soft rock band Air Supply is coming to the Covey Center just in time for Valentine's Day! On Wednesday, February 10th at 7:30pm the timeless duo will play all their greatest hits, including "Lost in Love," "All Out of Love," and "The One That You Love." Tickets are $45, $60, and $75 and go on sale November 16. Purchase your tickets now, you do not want to miss them singing "Making Love Out of Nothing At All," "Sweet Dreams," and all their other immortal love songs!
In 1975, the trademark sound of Russell Hitchcock's soaring tenor voice and Graham Russell's simple yet majestic songs created a unique sound that would forever be known as Air Supply. Over the last 40 years, Air Supply has experienced extraordinary success, including seven consecutive Top Five singles, 17 studio albums and 19 compilation albums, platinum and multi-platinum status, and induction into the Australian Recording Industry Association Hall of Fame. To this day, they continue to make new music and tour the globe.
More on Air Supply: Graham Russell & Russell Hitchcock met on May 12, 1975 in Sydney, Australia; they became instant friends with their common love for The Beatles and, of course, singing. They made a single in one afternoon and it shot to number one on the national charts. Air Supply was born! That same year, they opened for Rod Stewart across Australia and then throughout the U.S. and Canada.
In 1980, "Lost in Love" became the fastest selling single in the world, leaping to the top of all of the charts. Seven top-five singles later, Air Supply at that time had equaled The Beatles' run of consecutive top five singles. "Lost in Love", "All Out of Love", "The One That You Love", "Sweet Dreams", and "Making Love Out Of Nothing At All" have each achieved multi-million plays on the radio.
However, it is the live shows that always hold audiences captive around the world. They were the first Western group to tour China, Taiwan, and countless other countries that before would not allow pop music across their borders. In South America and Asia they became a part of everyone's life. In 1988, Air Supply was asked to participate in Australia's bicentennial celebration and to play for HRH Prince Charles and HRH Princess Diana. In July 2005, Air Supply smashed attendance records when, in Cuba, at one show they played to 175,000 people.
***********
What is the Covey Center? The Covey Center for the Arts exists to allow its founders and supporters the opportunity to enrich the lives of our community and endow all that is good in the arts for generations to come. The Covey takes great pride in providing valuable educational and creative development opportunities for youth and families alike and features first class entertainment and art exhibits appropriate for all ages.
MORE ON THE COVEY CENTER FOR THE ARTS
THE COVEY CENTER FOR THE ARTS is conveniently located in the heart of Provo at 425 W Center Street, Provo, UT 84601. Constructed in 2007, this 42,000 sq. foot premiere performance rental facility features:
A 670-seat performance hall with theatre and balcony seating
Three dance studios furnished with a piano, ballet bars, and walled mirrors
A 100-seat black box theater
Three art galleries
A state-of-the-art sound system
Full theatrical lighting with a 75-ft. theatrical fly
Two backstage green rooms with make-up mirrors and;
A full orchestra pit
In addition to serving the community as a premier venue for local performers and artists, The Covey Center for the Arts regularly attracts and features internationally known acts such as America, Kenny Loggins, George Winston, Stomp, David Lanz, Michael Ballam, The Beach Boys, Ryan Shupe, The Oak Ridge Boys, Kurt Bestor, Styx, and Foreigner.

LINKS AND ADDITIONAL INFO ON OUR FEATURED PERFORMERS
Visit Air Supply's Official Website at www.airsupplymusic.com
Click here to read Billboard's article "Still Supplying The Hits After 35 Years"
To watch video of several songs, click here
Click here to read MTV's profile on Air Supply