UTAH VALLEY FACTS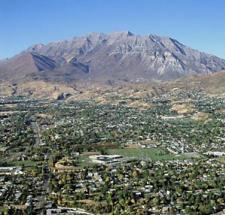 POPULATION
 Utah Valley: 575,205 (2015)
ELEVATION
Highest Points (Wasatch Range):  
Mt. Nebo - 11,928 feet  //  Mt. Timpanogos - 11,750 feet 
Lowest Points: 
Depression in Jordan River Flood Plain - 4,480 feet  //  Jordan River at Jordan Narrow - 4,490 feet
CLIMATE
Utah Valley has four distinct seasons: Spring, Summer, Fall and Winter. Utah Valley's climate is moderate and ranges from 39°F to 92°F. If you are traveling through mountain areas, expect the temperature to be about 20 degrees cooler. There are about 4 ½ to 5 months of snow free weather.
GEOGRAPHY
Utah County is located in North Central Utah. It is called Utah Valley because mountains frame the county on both sides. The major cities form a 40 mile chain north to south, aligning with Interstate 15. 
AREA: 2,143 square miles, 2.45% of Utah (State) 
PERIMETER: 301.68 miles 
DIMENSIONS: 84.4 Miles NW-SE (Butterfield Peak to Emma Park); 60.9 miles NE-SW (Tintic Mountain to Sunset Peak) 69.0 miles E-W by 52.9 miles N-S
AIRPORT TRANSPORTATION
The Salt Lake International Airport is just 45 minutes from downtown Provo. Taxis, limousines, buses, and shuttles provide airport service to the Valley. The Provo Airport provides commercial flights on Allegiant Airlines to and from Mesa/Phoenix, Arizona, Los Angeles, California.
PUBLIC TRANSPORTATION
 Utah Transit Authority (UTA) provides over 100 bus routes. UTA also provides light-rail service, airport transportation, service to ski resorts in winter, and door-to-door transportation for disabled passengers.
TIME ZONE
Utah is in the Mountain Time Zone and uses Daylight Savings Time.
AREA CODES
 Utah's area codes are 801, 385 and 435. Unless otherwise noted, the area code for telephone numbers listed on this site is 801.
IMPORTANT TELEPHONE NUMBERS
Traffic/Road Conditions/Transit Info: 511 Toll-free outside Utah 866-511-UTAH 
Services for the Disabled: 800-333-8824 
Time and Temperature: 801-467-8463 
SLC Airport Information: 801-575-2400
EMERGENCY CONTACT NUMBERS
Fire, Medical, or Police: 911 
Provo Police (non emergency): 801-852-6210
 
VISIT UTAH COUNTY ONLINE: www.utahcounty.gov